If you haven't been to Disney World in the last few years, you are in for some extra magic. Back in 2013 Disney Magic Bands have hit the Disney World scene, and it looks as if Magic Band will finally arrive to Disneyland by 2023!
Disney Magic Bands are the result of the Walt Disney Company making an $1 billion dollar investment aimed at making the park experience smoother and more convenient for guests. 
We have been to the parks several times since the introduction of Magic Bands and it seems like each time Disney is expanding the number of things you can do with the Disney Magic Bands in 2022.
We have been to the parks several times since the introduction of Magic Bands and it seems like each time Disney is expanding the number of things you can do with the Disney Magic Bands in 2022.
---
First, Disney Magic Bands Now Cost For Everyone (but it's cheaper if you have a Disney Hotel Reservation)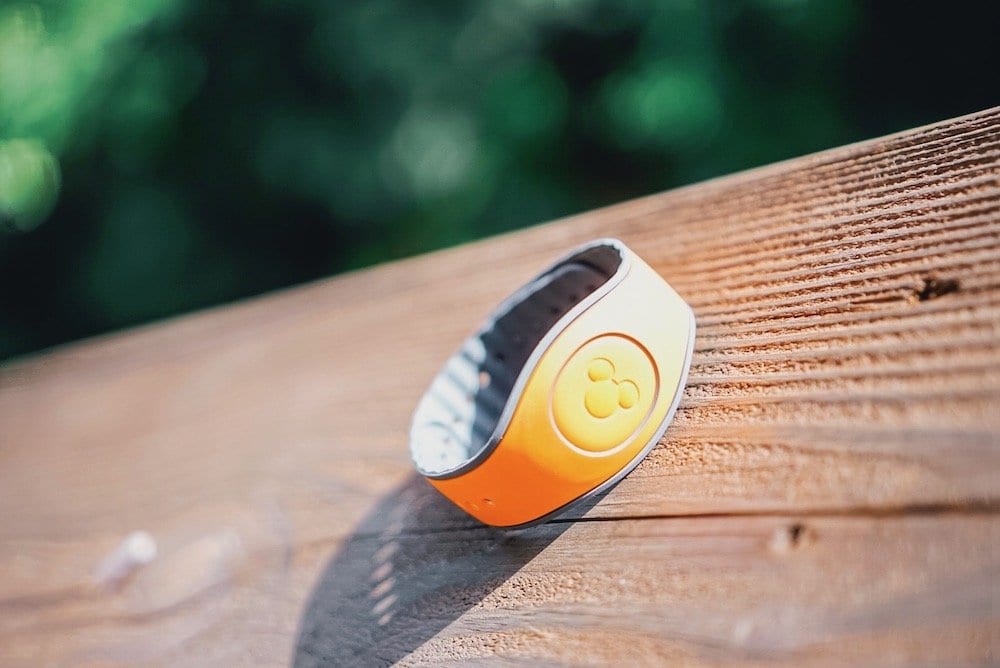 It used to be that for any guests staying at a Disney World Resort, MagicBands come free as part of your stay. Now, that perk is no longer. You do get a discount and can pay only $9.99 when you make your reservation.
Annual Pass holders also receive free MagicBands with their purchase. Guests can either order their bands to be delivered to their home before their vacation. The other option is you can pick them up at check-in.
If you aren't staying at a Disney Resort or buying an annual pass, you can still pick up a MagicBand in park gift shops or online for less than $30.
---
The Bands are Customizable
MagicBands are designed to fit the whole family, from the youngest member to the oldest. Each band offers an adjustable fit and is also customizable.
Before your visit, you can login to My Disney Experience and customize your bands by selecting the color (8 standard colors – pink, green, red, orange, yellow, blue, purple, and gray). You can also now get character ones before your visit (for an extra charge).
You can also have each family member's name (up to 9 characters) printed on the inside or a fun nickname.
In addition to the standard options and customization, Disney also offers a number of other special bands and MagicBand accessories.  You can purchase these for an additional cost in the park or online before your visit.
---
The Disney Magic Band is Your Ticket
Now let's discuss the magic behind MagicBands. At their core, the bands are designed to make each guest's visit more magical and convenient. By simply tapping your band at various touch points throughout the Disney World parks, you are able to open up all the power of the MagicBand system.
This starts right from the first moment you enter the Disney parks. Your MagicBand is literally your park entry ticket. On first entering the park, all guests over 9 years old have their fingerprint scanned and their MagicBand tapped. This links you to your band and activates your park ticket.
Every time after that, you simply tap your band to the fancy Mickey Pole (I'm pretty sure that's the technical name) and place down your fingerprint and voila you are in the park!
---
Disney Magic Bands are Your Room Key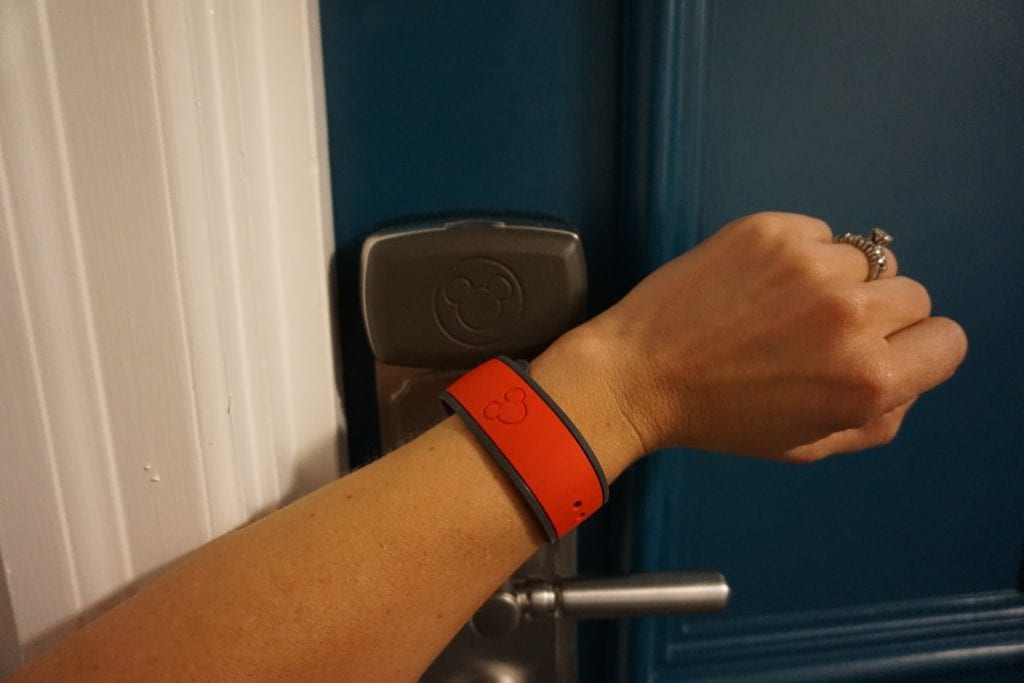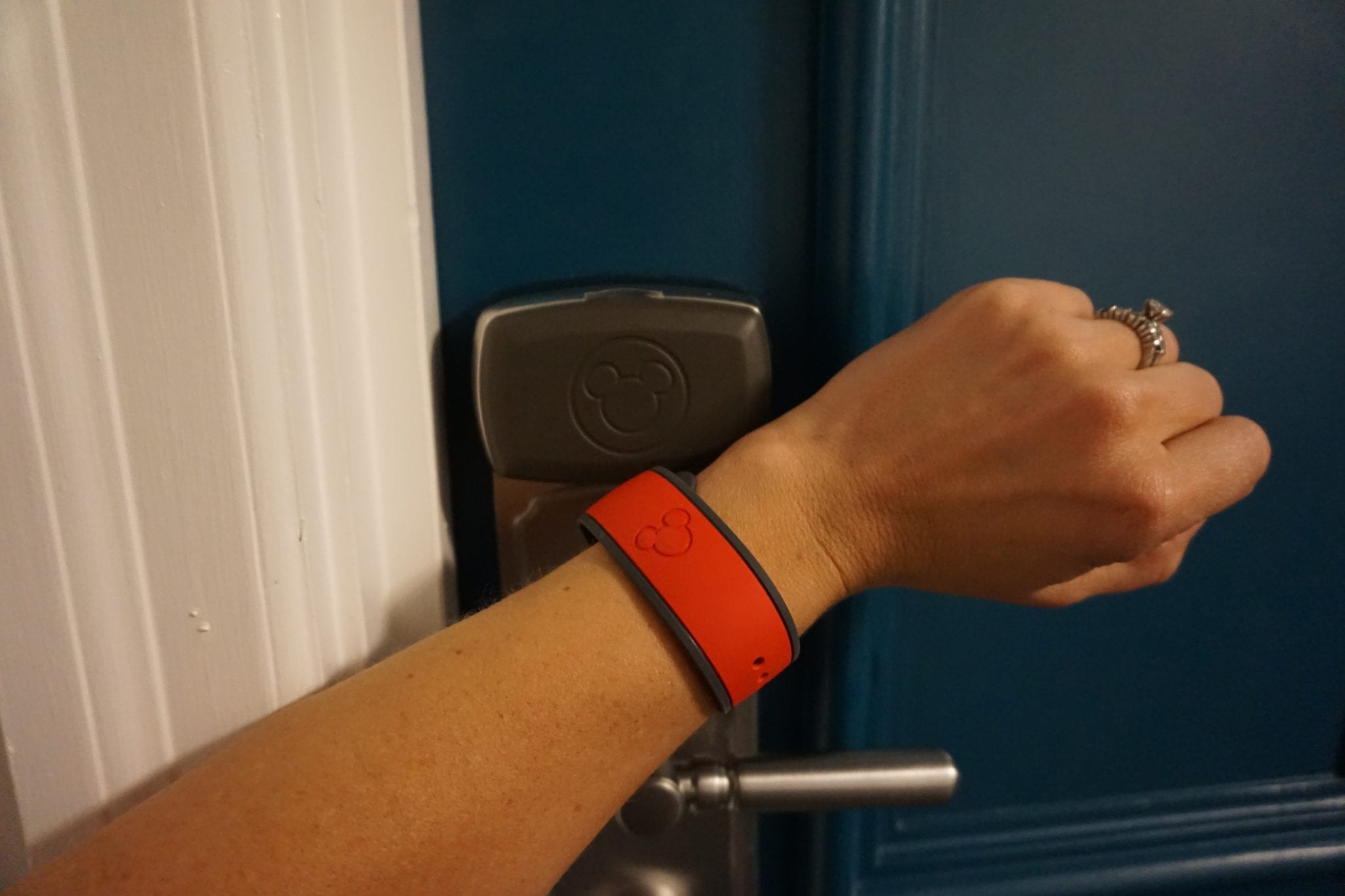 Not only is your MagicBand your park ticket, if you are staying at a Disney Resort hotel, it is also your room key.
No more getting locked out of your room or demagnetizing your room key. If you have older kids or are on a large extended family vacation, there is no need to worry about who has the room keys. Each family member can scan into the hotel room using their own band.
*Pro Tip – If you had the Magic Bands delivered to your home, make sure to pack them somewhere that is easy to get to, like your carry on luggage. Since they are the key to your room you do not want to be sifting through your luggage in the hallway to find your Magic Band.
---
Use them to get into your Hotel Pool
Yes, that is correct, many Disney World Hotels have a cast member waiting at the entrance to scan your magic band for entrance to the pool. So make sure before you head to the pool that you have your magic band on!
---
Are Disney Magic Bands Waterproof? Yes, Yes they are!
Since you will need them to get into your pool area, the Disney Magic Bands are most definitely waterproof. Now, that being said, they are known to fall off in the pool. We lost and found two of ours in the pool at Disney's Beach Club. Grab some of these Bit Belts and they will stay on the whole time in the pool.
---
Your Dinner Reservation
When you book your dinner reservations on the My Disney Experience App, they will automatically be linked to your Disney Experience account. So, when you are checking in, many places will simply ask you to tap your Magic Band. Also, if your dinner reservation is at a hotel and you are driving to the hotel.
The security guard will ask for your magic band to confirm you have a dining reservation before parking.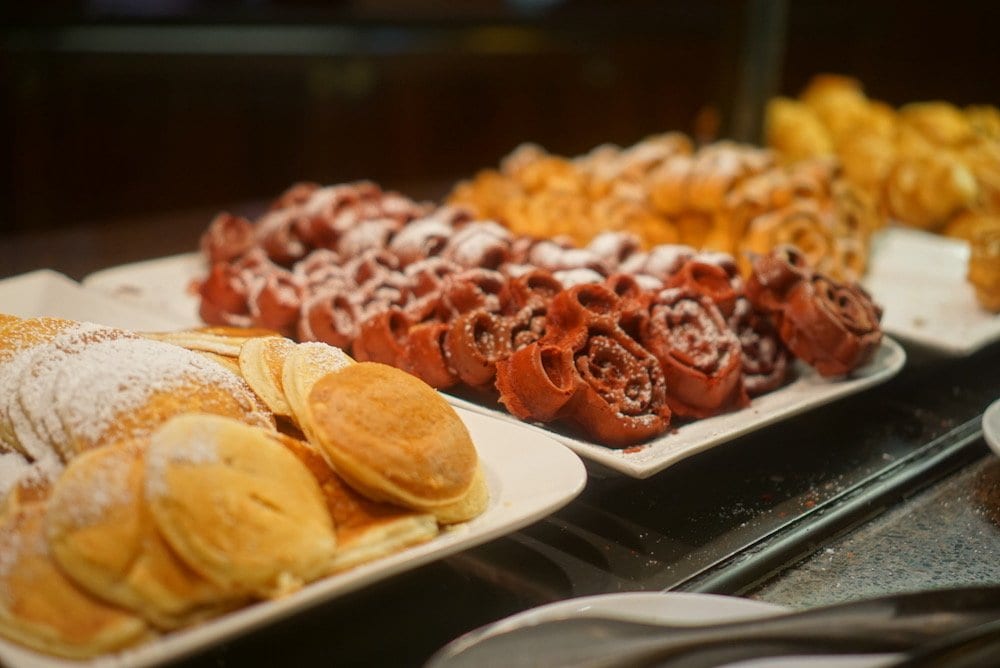 ---
It's Also Your Dining Credits
If you are signed up for one of Disney's dining plans, your meals and reservations are also stored on your MagicBand. When eating at any Disney restaurant, tap your MagicBand to subtract your dining credit.
They will let you know how many credits you have whether it be snacks, table service, or counter service credits. This counts for even restaurants at Disney Springs that accept the Disney Dining Plan.
---
Use them for Rides (even the wet ones)
While the MagicBands have lots of built-in magic available for Disney hotel guests, once you get into the parks themselves, a whole new level of magic is revealed.
MagicBands are your ticket to Disney Lightning Lanes. Using the Disney Experience app, you can make all your daily FastPass+ reservations and link them to your band.
Once your FastPass+ reservation time comes up, simply head to the ride and tap your band on the reader. You'll be whisked right away to the front of the line.
You also don't need to worry about the bands on any of Disney's wet rides, like Splash Mountain, or even on the Disney water park rides. The MagicBands are completely waterproof and don't need to be taken off, even if you decide to jump in the pool.
---
Magic Bands Will Store Your Photos
As they say – "if there isn't a picture, it didn't happen." Thankfully, Disney has you covered with tons of ride cameras to catch your rollercoaster scream and professional photographers placed throughout the park to help you get the perfect family photo with Disney Photopass.
Your MagicBand comes in handy here as well. Any photos taken in the park, either by in-ride cameras or Disney photographers, can be stored in your Disney Experience app via a tap with your band.
From the app you can then decide to share or save any pictures, depending on what, if any, park photo package you choose to purchase.
Pro Tip – On many rides, you don't even have to tap your band for your picture to appear on the Disney World app, the Magic Band automatically adds it for you.
---
Use your Bands For Any Purchase in the Park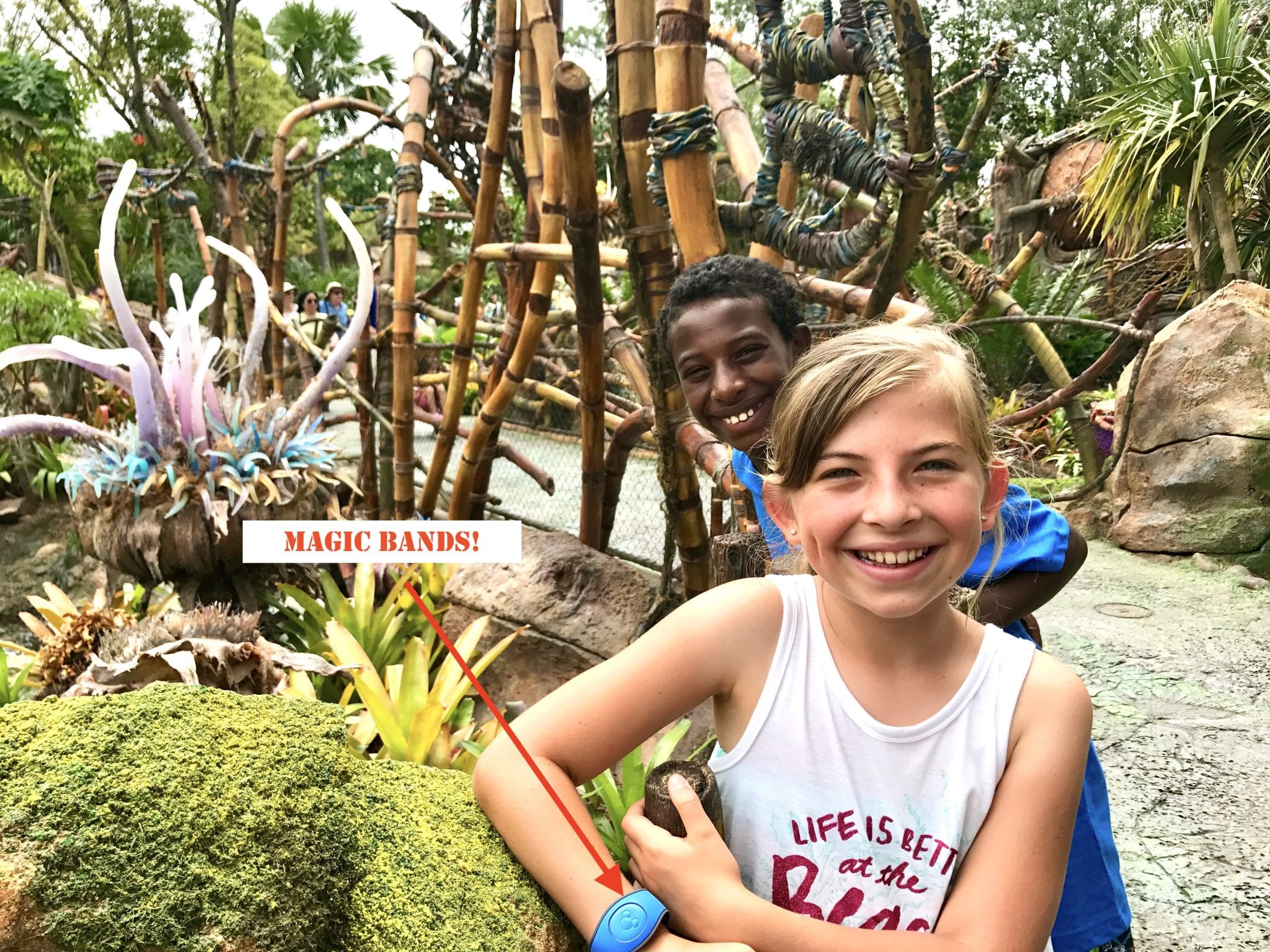 Speaking of purchases, your MagicBand is not only your ticket, room key, and FastPass, it can also serve as your wallet too!
With the ability to save a credit card to your MagicBand, you can enjoy charging purchases throughout the park without the need to carry your wallet or purse. The MagicBand purchase option works at pretty much every checkout in the park from gift shops to food stands.
---
Don't Worry – They are Secure
With so much built-in power and magic, you might be a little worried about the security of your MagicBand. There is no need to worry though as Disney has taken MagicBand security seriously.
Each band uses radio frequency technology to interact with the long and short-range readers in the park. The bands themselves don't store personal information.
They are only used to link to your stored information in the secure Disney system. In addition, each band is set up with a 4-digit PIN for added security which must be entered before any purchase can be made using the linked credit card.
---
What happens if they get lost?
If your magic band gets lost, no worries. Simply stop by your hotel desk and they will gladly replace it the first time for free. (After that they may charge a $15 fee) That being said sometimes you lose it in the park and that is kind of frustrating having to deal with fast passes etc..
Usually cast members are pretty understanding If one member of the party lost their band but its still a pain.
To prevent your band from getting lost. I highly recommend purchasing Bit Belts. They slip right around your magic band so that they don't fall off!
---
They can alter your ride & waiting in line experience
You know those rides like Star Tours, where each time might be a different story. Well, the Disney Magic Bands will calculate how many times you have been on a ride and try to give everyone on the ride the story which they most likely have not seen. This way as many people as possible are getting a new experience.
Plus, if you are standing in line, you might realize that your Disney Magic Band is altering the world around you slightly. On Expedition Everest, there are several digital tourist signs right before you board. You might see the names of people in your party appear on those boards.
---
Keep them as Souvenirs
After you leave the park and check out of your hotel, your MagicBands are still yours to keep. They are a great souvenir with all the memories they hold.  Disney MagicBand can be customized with charms or special designs. You might even find the urge to wear them long after your Disney visit.
They are not just great souvenirs though. If you plan to visit the Disney World parks again in the near future, hold on to those bands! Disney MagicBands should work for around two years before the batteries in them die.
You can manage your bands via the Disney Experience app. Use them on your next visit to the park, even if you aren't staying at a Disney resort hotel.
Disney MagicBands are still only available at the Disney World Resort but it can be easily said that Disney's  $1 billion dollar investment paid off. From convenience to fun, MagicBands really do add a bit of extra magic to the park experience.
---
Disney Magic Bands 2022 Introducing Disney Magic Band +
Disney Magic Band + came out in 2022 and has some extra features than the traditional magic band. Personally, I have found these features to be a bit underwhelming but I imagine that they will expand on their capabilities.
Currently, here are the benefits of purchasing the more expensive Disney Magic Band +
Interact with 50th Anniversary Statues (The statues will talk using gesture recognition with your Magic Band +)
Light up with Fireworks. Your Magic Band will sync up with the fireworks to light up as fireworks light the night's sky
Over in Star Wars Galaxy's Edge, vibrations on Magic Band + will help you find virtual bounties and enjoy some more interactive elements of the new Star Wars land.
Another amazing feature when you purchase a Disney Magic Band+ is you will get a charger with a short USB cord – which makes it rechargeable!
---
Your Phone can be your Magic Band
Here is a little secret. You don't actually need a magic band. Your Smart phone can now do everything the Magic Band can do. With the My Disney Experience App you can do all the same things with your phone as you can with your magic band, but the magic band is way more convenient and never runs out of battery.
---
How to set up your MagicBand+
According to the Disney World website it is really easy to set up your MagicBand+, it actually is so easy they break it down in 4 simple steps!
Step 1:
First step is to make sure to power your band on by pressing the button on the back once, and tap the band on your phone.
Step 2:
Once you power on your Disney Magic Band you will then be directed to open and/or download the My Disney Experience app.
Step 3:
From there you will need to follow the instructions in the app to link the MagicBand+ to your account, assign it to a Guest and pair it to your phone. Then you will need to use the app to make sure your band is charged and the software is up-to-date!
Step 4:
Be sure to link your park tickets, reservations and more!
To learn more about setting up your Disney MagicBand+ head over to the Disney World website here!
Questions about Disney Magic Bands? Let us know in the Comments
If you need help planning and booking your magical Walt Disney World vacation, contact our friends at Tink's Magical Vacations. They are truly Disney Experts. Not only are their services FREE, but they will save you both time and money.
Interested in discounted tickets to the park? Check it out here!
Frequently Asked Questions about Disney Magic Bands
Are Disney Magic Bands being phased out?
The complimentary bands are being phased out for Disney Resort guests. You can actually access everything the band can do on the My Disney Experience App.
What do the Disney Magic Bands do?
Your MagicBand enables you to travel lighter throughout your vacation. Use it to enter the parks, unlock your Disney Resort hotel room and buy food and merchandise. MagicBands add a touch of magic to your vacation by unlocking special surprises, personalized just for you, throughout the Walt Disney World Resort.
Do the Disney Magic Bands need batteries?
Yes, they do run on batteries. The batteries tend to last up to two years before needing to be replaced though.
You Might Also Enjoy:
Disney World Tips & Tricks [Over 75 Amazing MUST KNOW Tips]
Disney World Stroller Rental – Should you Bring Your Own?
The Best Rides at Magic Kingdom [Top 11 Most Magical Choices]
An Ultimate Guide to Hollywood Studios Quick Service Dining
EVERYTHING YOU'LL LOVE ABOUT THE DISNEY WORLD MONORAIL HOTELS
Pin for Later: