With some of the best sandy beaches and surf breaks in Southern California, Huntington Beach is one of the best west coast travel destinations and possibly the best of the Orange County beaches.
On our Southern California road trip we were lucky enough to head down the pacific coast highway and spend a couple of days exploring the best things to do in Huntington Beach.
Best Things to do in Huntington Beach
Even beyond the beach, there is so much to see and do here. If you're looking to create the perfect itinerary for your trip to Orange County, there are so many great cities to visit from Newport Beach, to Anaheim & Huntington Beach should for sure be on your list.
---
Huntington Beach Pier
Just a small walk from Main Street, right across the West side of PCH lies the Huntington Beach Pier. Here you'll find the famous Ruby's Surf City Diner and plenty of fishermen casting their lines. The Pier presents some excellent photo opportunities and is packed with rich HB history.
The Huntington Beach Pier is one of the most beautiful piers on the West Coast, so you will definitely want to add it to your list of things to do in Huntington Beach.
---
Enjoy The Beach
Of course, there is no better way to enjoy Surf City USA than by taking a trip to the beach. We recommend heading out to Bolsa Chica State Beach, otherwise known as 'Tin Can Beach.' You can spend some time surfing on some of the best barrels in town or have a picnic while listening to the waves crash against the shore.
---
Enjoy Sunset Beach Bonfire & S'mores
One of our favorite things to do in Huntington beach with kids was the Sunset Beach Bonfire. Head over to Huntington beach's Waterfront Adventures and book a sunset bonfire package.
You can customize the package with S'mores or hot dogs and chips. It is the perfect way to enjoy a beautiful Huntington beach sunset.
---
Dine at the Iconic Duke's Restaurant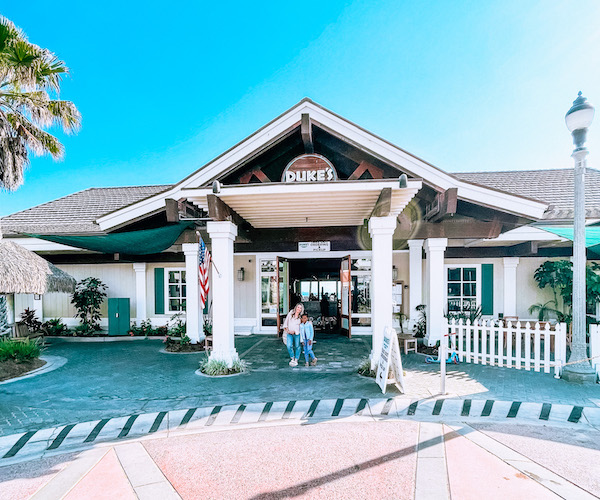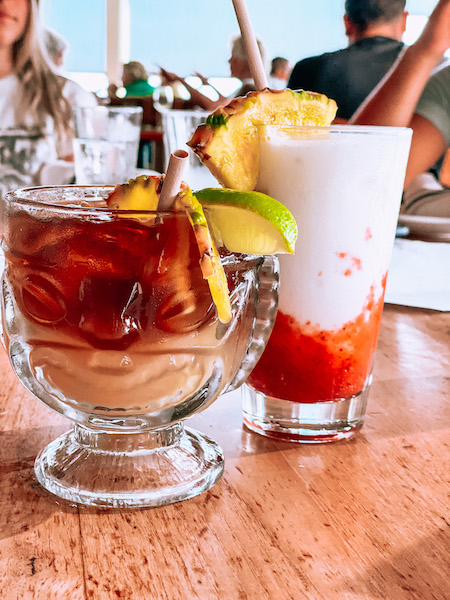 Located right next to the pier, Duke's Huntington Beach is our favorite place to dine everytime we come to Huntington.
Named after legendary surfer Duke Kahanamoku, Duke's is a great place whether you are enjoying a delicious Mai Tai, their awesome Macadamia Nut crusted fish or have their famous Hula Pie, this place is a delight.
I suggest making reservations as the place does book up.
---
Take a Duffy Boat Ride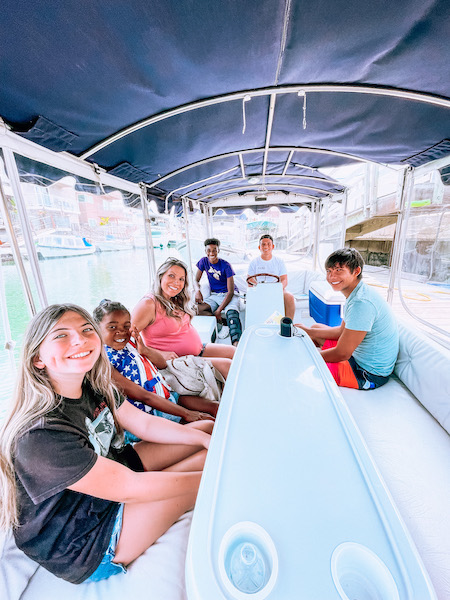 Head over to Huntington Harbor Boat Rentals and spend the day enjoying a fun duffy boat ride through the Harbor.
I recommend packing up lunch and grab some beverages (the harbor will provide a cooler and ice) before you set sail so you can enjoy a nice meal on the water.
A Duffy Boat Ride is one of the best things to do in Huntington Beach.
---
Huntington Dog Beach is a popular destination for dog owners and their furry friends. Located in Huntington Beach, California, it is one of the few dog-friendly beaches in the area and offers a unique experience for both dogs and their owners.
The beach is located off Pacific Coast Highway and offers a wide stretch of sandy shoreline for dogs to play, swim, and run around.
One of the highlights of Huntington Dog Beach is its relaxed, off-leash policy, which allows dogs to play and interact with each other without the restrictions of a leash.
The beach is also well-maintained, with trash bins and poop bags available for pet owners to clean up after their dogs.
In addition to being a fun spot for dogs, Huntington Dog Beach also offers a great opportunity for dog owners to socialize and meet other pet owners in the community. Many dog owners gather at the beach to play with their dogs, have picnics, and enjoy the beautiful views of the Pacific Ocean.
Overall, Huntington Dog Beach is a must-visit destination for dog owners and their furry friends. Whether you're a local resident or just passing through, it's a great place to relax and have some fun in the sun.
We definitely recommend adding Huntington Dog Beach to your list of things to do in Huntington Beach.
---
Rent a Surrey Bike
Huntington Beach has one of the longest bike trails along the beach in all of California. Head over to the beach and you will find Wheel Fun Rentals. There you can grab a multitude of different bikes including out family favorite a surrey bike. It's super fun and a great way to have fun along the beach.
---
Surf or Watch the Surfers
Huntington Beach is one of the best surfing destinations in the world. If you can't ride with the experienced surfers flying around next to the pier, we recommend hitting HB Surf School to get your balance straight.
The school is run by former surfing pro, coach Bill Sharp, who has taught thousands of surfers. Surfing for sure is one of the best things to do in Huntington Beach.
---
Shop in Downtown Huntington Beach
Downtown Huntington Beach is right across from the pier. Here you'll find tons of great restaurants, bars, ice cream shops, fashion boutiques, and nail salons.
Make sure to head out there on a Tuesday during Surf City Nights to catch live music performances and plenty of other unique activities.
---
Surfers Hall of Fame
The Surfer's Hall of Fame is like the Hollywood Walk of Fame, though for some of the most legendary surfers in the world.
You can find this monument right across from the Huntington Pier. It's a great place to see the names of all the world's greatest surfers from past and present.
---
Huntington Beach State Park & Huntington Central Park
Huntington Beach State Park stretches for two miles between the Santa Ana River and Beach Boulevard. It is one of the best places in HB to spend the day, whether you want to surf, fish, swim, or stroll around.
For sporty families, there are plenty of volleyball courts, basketball courts, and biking trails to enjoy. 
Huntington Central Park is the largest city-owned park in Orange Count. Huntington Central Park spans over 343.24 acres of land. Picnics, riding, playing, and leisurely strolls along the concrete paths are just a few of the activities people love doing in this quiet environment of open grass fields and vast tree and flower plantings.
All year long, Central Park has a ton of events and activities for people of all ages. Ellis, Edwards, Goldenwest, Gothard, Slater, Talbert, and Gothard Streets all have park entrances.
---
International Surfing Museum
To get in touch with the history of surfing, we highly recommend stopping by the International Surfing Museum.
You can learn everything about the cultural and historical significance of surfing, all while seeing hundreds of rare and resorted boards. You'll love snapping photos of legendary surf memorabilia.
---
Check Out The Orchestra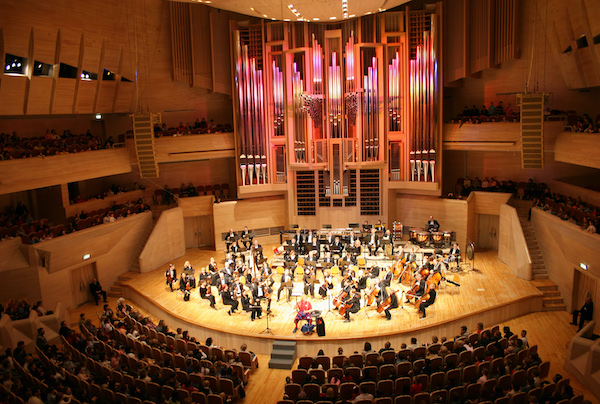 If you're a lover of classical music, we highly recommend catching a show from the Huntington Beach Symphony Orchestra. Check out the calendar to see regular concerts they have scheduled throughout the year. The variety of music is surprisingly large, meaning no matter your tastes, you'll find a show you can enjoy.
---
Get In Touch With Nature
The Shipley Nature Center came about as a way for the community to protect the natural environment surrounding the city. Here, you'll find ten acres of local plants and animals and plenty of docents to guide you through and teach you about the region. While you're there, explore one of the many themed gardens or educational tours.
---
Tour The Huntington Harbor
Surrounding a small cluster of islands is the wonderful Huntington Beach Harbor. Whether you choose to take a private boat tour of the canals, rent some kayaks or paddleboards, or walk along the pathway for some in-the-water people-watching is totally up to you. The atmosphere is very calm, making it a great place to relax after a long day.
---
Visit the Newland House Museum
If you're interested in the history of Huntington Beach, we highly recommend heading out to the Newland House Museum. This home was built near the end of the 19th century and has plenty of interesting memorabilia that details the life of the large Newland family. At one point in time, this was a farmhouse that locals used to grow produce.
---
Bolsa Chica Ecological Reserve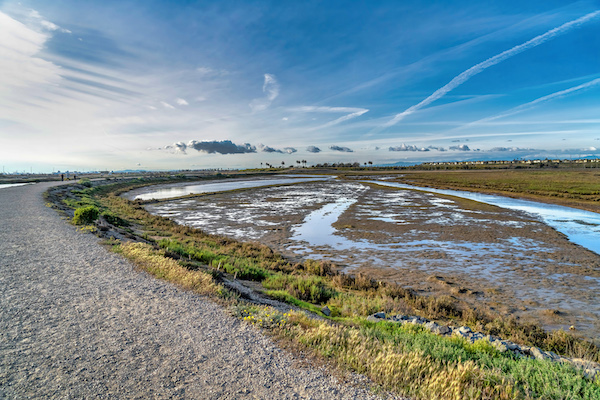 Bolsa Chica Ecological Reserve is one of the best places in the United States to see birds. You'll find everything from great blue herons to sandpipers to snowy egrets. There are plenty of volunteer groups who can take you on a tour and teach you about the various species in the region.
---
Old World Village
Take a step back in time into this unique dining and shopping experience known as Old World Village. This area has been around since the 1970s, giving visitors a chance to explore an eclectic mix of gift shops and venues. If you go during October, you can enjoy the local Oktoberfest celebrations!
---
Go Fishing
Fishing is on our list of things to do in Huntington Beach, as it is a great thing to do solo or with the Family! If you're serious about fishing, we recommend going out for a day with the guys from Davy's Locker.
The tour is for all ages and you can find plenty of fish, including sea bass, tuna, halibut, yellowtail, and barracuda. Even if you don't have experience, the guides provide rods, bait, tackle, and more.
---
Enjoy a Bike Ride
One activity that I highly recommend for families is exploring the Huntington Beach Bike Trail. This trail is perfect for families who love to bike, walk, or rollerblade together.
The trail is easy to navigate, and it offers stunning views of the Pacific Ocean. Plus, there are plenty of opportunities to stop and take a break along the way. The trail starts at Goldenwest St. in Huntington Beach, CA and stretches for over 8 miles, making it a great way to spend an afternoon with the family.
---
Where to Stay in Huntington Beach
While you are enjoying all the best things to do in Huntington Beach, you might also be wondering where you should stay. We went ahead and listed some of our favorite options below.
---
The Waterfront Beach Resort
We absolutely love the Waterfront Beach Resort. It is located directly across from Huntington Beach and a couple of blocks from the pier. They have two pools, one with water slides and a beach sand play area for the little ones and another pool that is simply beautiful.
---
Hyatt Regency Huntington Beach Resort
Another beautiful place to stay is the Hyatt Regency Huntington Beach resort. We love Hyatt Regency as we stayed at their beautiful Kauai location. A hotel getaway with 26 acres of palm trees and succulents, the Hyatt Regency Newport Beach is close to the Upper Newport Bay Nature Reserve.
The hotel staff, known locally as "The Newporter," as it was formerly known, has been making memories for both visitors and residents for more than 50 years. Access their luxury golf course, three distinctive pools, and more. Plus Hyatt is one of the best travel partners to use your Chase Credit Card Points.
---
Map of Things to Do in Huntington Beach
---
If you enjoyed our list of things to do in Huntington Beach, you might also like:
11 THINGS TO DO IN NEWPORT BEACH THAT THE FAMILY WILL LOVE
THE ULTIMATE GUIDE TO THE [BEST DANA POINT RESTAURANTS & ACTIVITIES!]
THE 10 BEST BEACHES IN LONG BEACH, CALIFORNIA
15 OF THE BEST BEACHES IN ORANGE COUNTY, CALIFORNIA
35 AMAZING THINGS TO DO IN ANAHEIM BEYOND DISNEYLAND
---
Pin-It for later: 20 Awesome Things To Do In Huntington Beach You'll Love!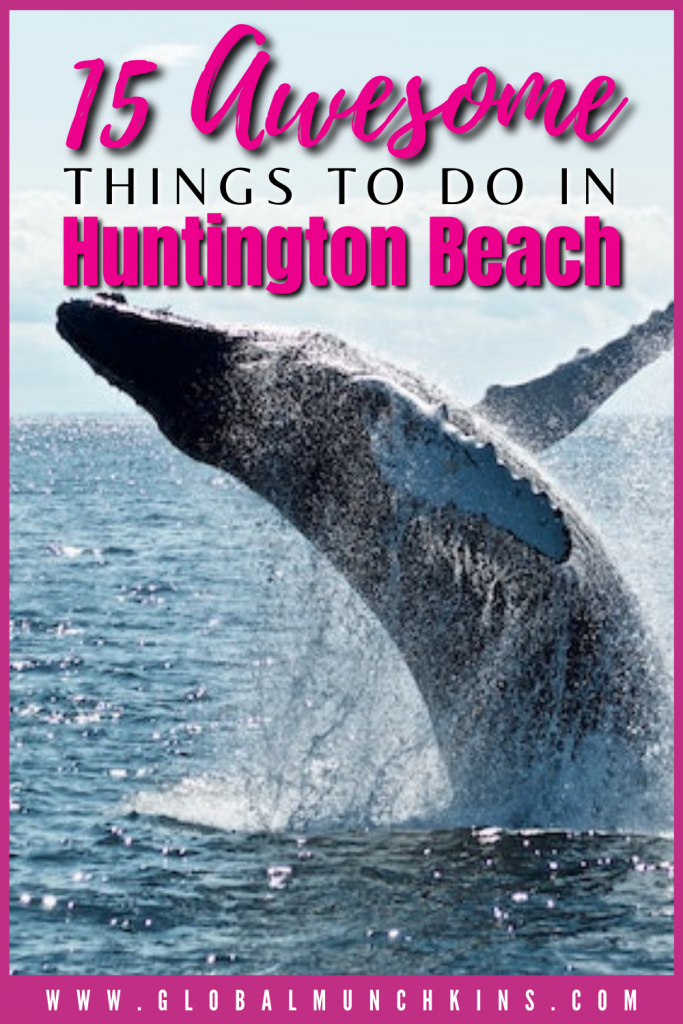 ---
Frequently Asked Questions about Things to do in Huntington Beach
How Far is Huntington Beach from Disneyland
Huntington Beach is just 25 minutes away from Disneyland. So it is a great place to stay if you are looking to visit Disneyland for the day and still enjoy the beach
Is Huntington Beach worth Visiting
Absolutely, there is tons to do in Huntington beach California. From an iconic beach, to shops, delicious food and more, it is a great place to visit.
Is the Pacific Coast Highway close to Huntington Beach?
The Pacific Coast Highway (PCH) is a scenic road that runs along the coastline of California, United States.
It offers breathtaking views of the Pacific Ocean and is a popular tourist destination. One of the highlights of the Pacific Coast Highway is Huntington Beach, known for its stunning sandy beaches, surfing culture, and vibrant nightlife.
The Pacific Coast Highway Huntington Beach is a perfect combination of scenic beauty and beach activities. Whether you want to relax by the beach, go for a surf, or just enjoy the stunning views of the Pacific Ocean, Huntington Beach is the place to be.
What are other things to do in Huntington Beach?
Bird Watching
Visit the Huntington Beach Art Center
Take a walk at Shipley Nature Center
Try local cuisine