There are plenty of things to do with kids in San Diego, with over 70 miles of gorgeous coastline, beautiful state parks, hiking trails, and tons of kid-friendly attractions and restaurants. The problem won't be finding something to do, but yet finding a way to do them all.
To help narrow down your choices I have compiled a list of my Top 50 Things to do with Kids in San Diego… the BONUS…20 are completely FREE!
Also, for the things that do cost money, we have links to the best places to score discounted tickets.
***Looking for a complete list of Kids Free San Diego in October Events & Tickets – Click Here!***
My husband always says "it's better when it's free", and there is a ton of Free things to do in San Diego. There are a ton of free things to do for kids, adults and the whole family.
---
Visit one of San Diego's Iconic Beaches
One of our favorite things to do in the summer is to visit San Diego's Iconic Beaches. We absolutely love Del Mar Beach. It is a great place to do boogie boarding surfing or just enjoy the sand. 
We also love the dog beach in Coronado. It might be the happiest place on earth with dogs jumping in and out of the water. 
---
La Jolla Cove
La Jolla is one of those spots in San Diego that just really has it all. It is one of my favorite places to stay in San Diego.
When you visit La Jolla Cove there are sea lions in their natural habit, sunsets that don't disappoint, and tons of activities from kayaking to snorkeling. You can walk right up near the sea lions, but don't touch them as they are in their natural state.
In addition, La Jolla has mention the museums in town and the cute boutiques that line the streets. Plus, there is some delicious bites
Find more information here!
---
Dine at the Sugar Factory
You might think that a restaurant isn't that exciting of an adventure. Well, you never have been to the Sugar Factory. This place is fun for kids and adults.
Numerous celebrities have been here. There are mouthwatering meals, incredible drinks and some of the most incredible desserts you will ever find.
Our personal favorite was the Nutella Banana Pancake. This could easily have served 3 or 4 people. It is massive. The kids all loved the incredible milkshakes.
Definitely check this place out. It is located in the heart of downtown San Diego in the gas lamp district. You can check out the Sugar Factory here.
---
Balboa Park
This isn't just any ordinary park. Balboa offers over 17 museums, 9 centers dedicated to the performing arts, a carousel, a miniature railroad, and even the San Diego Zoo. It's safe to say there's always something going on here.
Find more information here!
---
Coronado Island – A must stop in San Diego with Kids
If you are in San Diego with Kids, you have to hit up Coronado Island. Drive here across the bridge from busy downtown San Diego and you'll suddenly find that you are in a laid back beach town straight out of a book.
That's what makes Coronado one of my absolute favorite places in San Diego. There are tide pools to explore, kayak and surrey bike rentals, delicious food, and you just have to stop at Mootown Creamery for a sweet treat. 
Find my Ultimate Guide to Coronado with Kids here for more inspiration for your weekend.
---
Go Shopping and Eat Ice Cream at the Gaslamp Quarter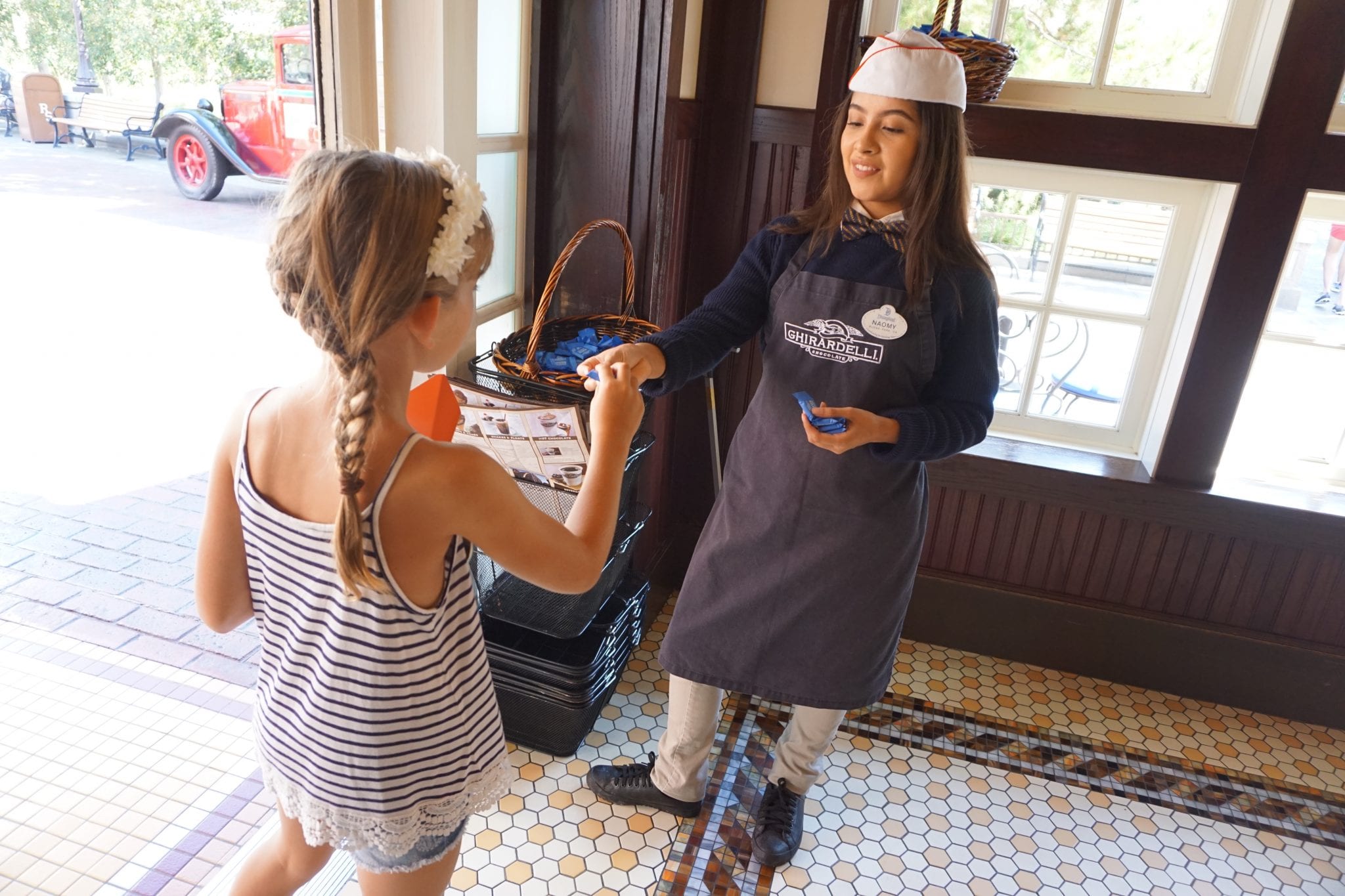 Gaslamp is the heart of San Diego with its renovated Victorian architecture, boutiques, and art galleries. There is a ton of shopping, delicious restaurants, and an incredible Ghiradelli's Ice Cream Parlor.
At nighttime, this does become the place to have some cocktails, so it is better to leave that fun in San Diego for the adults.
---
Go for a beach hike at Torrey Pines Natural Reserve (FREE)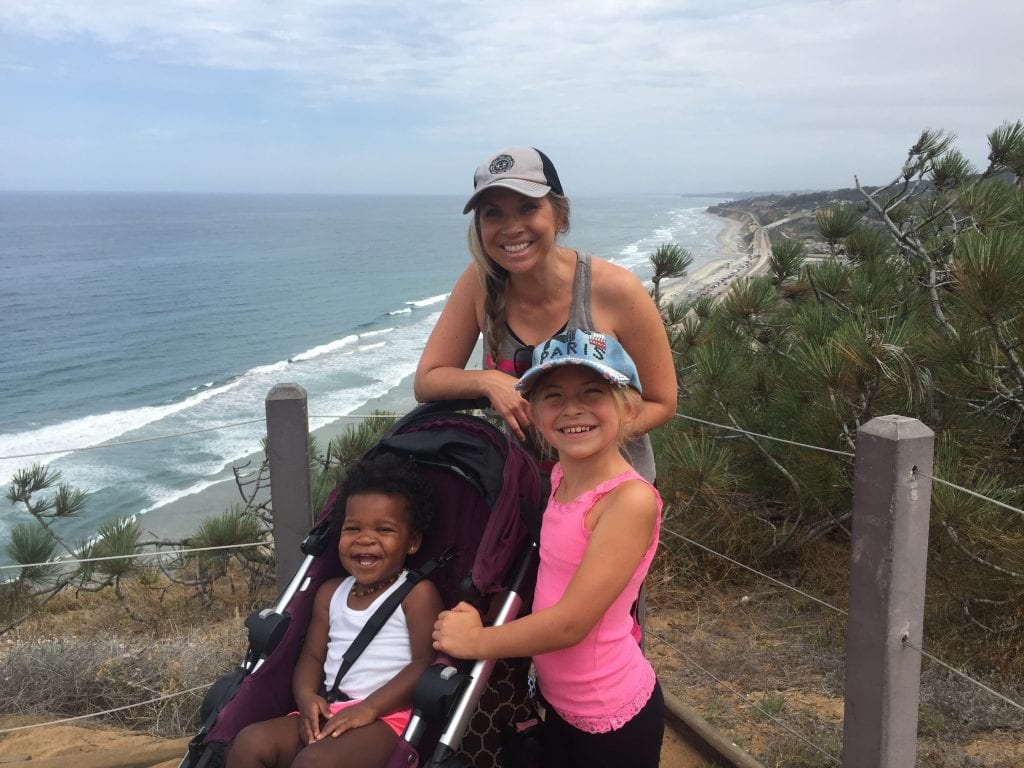 An overlooked family-friendly activity in San Diego with kids in tow is hiking. Torrey Pines is one of our favorite places to hike with the kids. There are over 8 beautiful trails to explore, this is the perfect spot for any level hikers to take in some natural California beauty.
Try the Guy Flemings Trail it's only ⅔ of a mile long making it perfect for little ones. Don't forget to pack your swimsuits because the beach below has lifeguards on duty, showers, and restrooms. We like to pack a lunch and make a day out of it.
Find more information here!
---
Take a walk a long Seaport Village (FREE)
Seaport Village is a great spot for a family stroll. You can check out over 50 unique shops and eateries. Check out their calendar to see what events they've got going on.
Find more information here!
---
Hike Potato Chip Rock
If you're up for a hike, this has become one of the most insta-worthy spots to get up to. Just make sure to pack plenty of water and snacks. You can check out our guide here
---
Visit the Secret Swings in La Jolla (FREE)
Kids love a good secret and the Secret Swings in La Jolla are the perfect scavenger hunt type experience for kids of all ages. Simply head to Scripps Aquarium and park in their parking lot (it's usually Free, except on the weekends) At the end of the parking lot you will see a trail that leads you right to the secret swings. 
---
Legoland
Legoland in Carlsbad is must do for any family with kiddos under 10. There's water cannons to shoot, the chance to earn a driver's license, and a Dragon roller coaster that'll take you soaring through the sky.
Legoland has added on the additions of a water park and the Sea Life Aquarium, making it even more worth it to spend the day here.
Recently we took a visit to check out their amazing LEGO Ferrari exhibit. It was a blast for adults and kids.
There are two great places to save on Legoland:  ARES Travel & Undercover Tourist
You can read about the 11 ways to save at Legoland Here
---
Catch a Game at Petco Park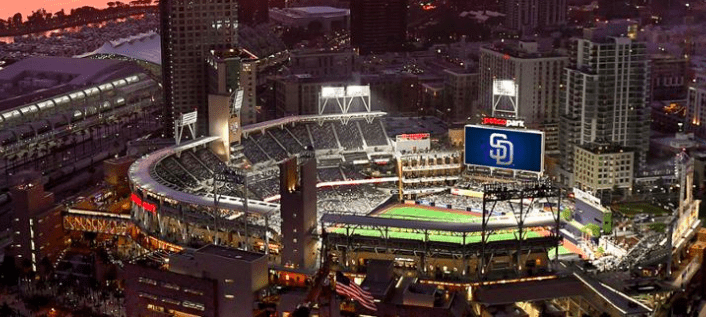 Petco can boast being one of the most family-friendly ballparks. It's so fun to catch a Padres game here and if you sit in the "Park at the Park" section, tickets are only $10-$17! It's not only cheap, but gives your little ones the chance to run around the grass while you watch the game.
For the true sports fans Petco Park also offers tours guided tours every day, multiple times a day.
Find more information here!
---
San Diego Safari Park
You probably know about the zoo, but have you visited the Safari Park yet? It's a great place for the whole family to learn about animal conservation efforts and see first hand how we can help endangered species.
Their tram ride makes it feel like you're out on the African Sahara and there's tons of animals to see. Older kids might like to check out the Flightline, the Safari Park's own fast-paced zipline experience.
Or for a staycation that makes you feel like you are in a whole new world check out the park's Snore & Roar Campground. Although, I'm not sure I would get much sleep with the sounds of the jungle going on all night- ha!
Once again, there are two great places to save on San Diego Safari Park:  ARES Travel & Undercover Tourist
---
Belmont Park
Admission and parking are free, meaning you can just stroll along this little beachfront amusement park if you'd like. Of course, if you'd like there are all kinds of rides that you can purchase individual tickets or an all day wristband for.
Find more information here
---
Del Mar Racetrack
Kids get in free on the weekends (adults are only $6) + they have tons of free kids activities to do! Check out the schedule to find out when their Family Fun Weekends are this summer.
Find more information here!
---
Sea World
While there's been a lot of negativity surrounding Sea World lately, it can still be a great stop for the family. If animal shows aren't for you there's fun rides and some pretty awesome aquariums.
Looking to step up your game? Try the Wild Arctic Interaction Program where families get to meet barking seals, giant walruses and polar bears before climbing into the water with gentle beluga whales.
Get discounted SeaWorld Tickets Here!
---
San Diego Zoo
All zoos are a great chance to get out of the house and walk around somewhere other than a park, but the San Diego Zoo is world class with beautiful trails winding around the park to explore.
Find discounted tickets: Click Here!
---
Catch a Show at Moonlight Amphitheatre
This is known to be San Diego's #1 outdoor theatre and such a fun idea when you are looking for what to do in San Diego with kids.
Each summer the theatre company puts on amazing shows like The Little Mermaid, Lion King, and so many more. We're super excited to see what they will do next and you should be too!
Learn more about the Moonlight Amphitheatre here!
---
Exploring Old Town San Diego
Visiting and exploring Old Town San Diego is such a fun way to enrich yourselves in the culture and history of San Diego. From colorful shops to eclectic restaurants there is so much to explore and see in Old Town San Diego!
Learn more about exploring Old Town San Diego here!
---
San Diego with Kids – Museums
If you want to visit some museums on your California vacation, San Diego has some of the best options in the state. There are some incredible museums that are fun for the whole family.
San Diego Natural History Museum
Visiting San Diego Natural History Museum is a must during your trip! It's always cool to find museums that are kid friendly and interactive enough to keep the munchkin's attention, and the Natural History Museum does just that. Check out the 3D films that are included with entry here!
San Diego Model Railroad Museum
Maybe not everyone is a train enthusiast, but that doesn't mean that you can't enjoy the really cool miniature train models at this museum. They're super detailed and fun to walk around and look at.
Find more information here!
The New Children's Museum
The New Children's Museum is an arts-based children's museum but it so much more than art. This museum is so fun and interactive for kids. Your kids will love the whammock, a 28′ wide and 20′ high hammock. It's perfect for your kids to swing climb and play.
Located in downtown San Diego, the Museum includes three levels of interactive, immersive galleries and studios to expose children to art and creativity.
Grab tickets for as little as $12 here!
Museum Of Making Music
This is an interactive journey through a century of musical instrument innovations that helped shape American Popular Music from the 1890s to the present day.
It includes over 500 vintage instruments on display, hundreds of audio and video examples at the push of a button and an interactive area where visitors can play on a variety of hands-on instruments. Grab Tickets Here!
San Diego Museum of Man
The Museum of Man is super engaging and has tons of exhibits from the creation of beer to the evolution of humans. It's a great place to drop in with the family.
Find more information here
USS Midway Museum
Visiting the USS Midway is an awesome way to get up close and personal with a naval ship. It's cool to show the kids how our navy lives their daily lives from the mess hall to the engine room.
We went when my cousin came ashore with his crew and all the kids had an amazing experience.
Get Discounted Tickets for the Midway Here!
Art Galleries at the University of San Diego (FREE)
This a fun place to go look around and see up and coming local artists.
Find more information here!
---
Water & Beach Type things to do in San Diego with Kids
Sesame Place
Sesame Place is definitely my favorite water park in all of Southern California. Technically a theme park there are so many water rides. It is incredibly clean, they have fun rides for the little kids and big kids as well.
Pro Tip* – By the Quick Queue pass. We got the unlimited quick queue pass and went on every slide 4-5 times during a 6 hour day. It was unbelievable
Dive In Movies at The Pearl
*free but don't forget to make reservations!
Come chill out at this poolside lounge and watch a movie like Jaws or Grease. There's food and a bar on site.
Find more information here
Imperial Beach Sun and Sea Festival (FREE)
These artists make crazy detailed sculptures out of sand and you can walk along the beach to see them.
Find more information here
Waterfront Park (FREE)
Image Credit:Courtesy of county of San Diego
Waterfront Park is located right along the harbor with a large grassy area to hang out AND over 830 feet of interactive fountains to be played in. It is perfect for cooling off in after touring the USS Midway or the Maritime Museum.
Bring a change of clothes for the kids and head to Little Italy when you are done for a full day of family fun!
Learn more about Waterfront Park here!
California Surf Museum
Learn the surf history and culture of California at this cool museum. Bonus- it's FREE on Tuesdays!
Find more information here
Carlsbad Lagoon – The Perfect
thing to do in San Diego with family
If you're looking for water activities this is the place for you. They've got everything; boats, kayaks, stand up paddleboards, aqua cycles, and jet skis. The water is calm so everyone can enjoy the water without having to worry about the waves.
Plus, the weather in Carlsbad is just stunning. It really is one of my favorite things to do in San Diego with the family.
Learn more about Carlsbad Lagoon here!
San Diego Speedboat Adventures
One of my older boys favorite things to do in San Diego is the Speedboat adventures. They have a 5-star rating on Tripadvisor with over 800 reviews.
You receive a guided and narrated San Diego Harbor Tour with some serious speed.
Plus, you are able to navigate and captain your own speedboat for the entirety of the tour while following their trained and knowledgeable guides to experience the best of both worlds – the THRILL of driving your own speedboat, and the safety of having a skilled guide introduce you to the beauty of San Diego Harbor.
Bonfire at Mission Beach (FREE)
Bonfires on the beach are a great way to end long, hot summer days. Grab some marshmallows, a blanket, and a log and head to Mission Beach with the family.
Catch a Sunset at Scripps Pier (FREE)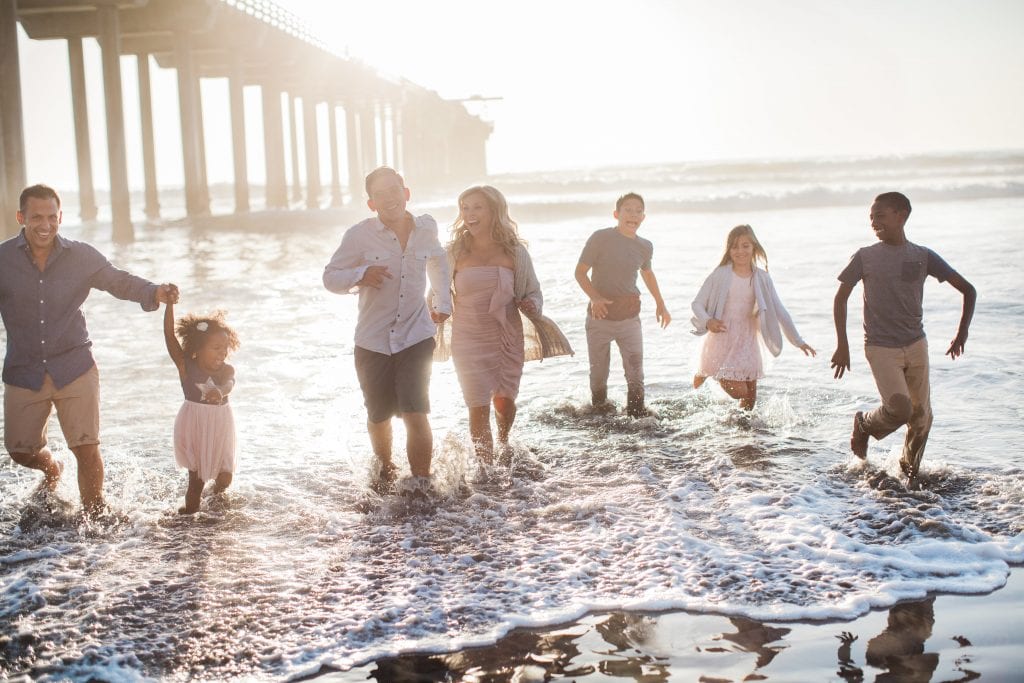 Pack a picnic, or hit up a local's favorite, we recommend The Taco Stand, and head to the Scripps Pier. There are plenty of picnic tables on the grass above the beach. And, the sunsets here never fail to amaze me.
We actually have used this pier numerous times for family photos. The pier along the sunset is absolutely stunning.
Kayak in the La Jolla Caves – One of our favorite S
an Diego Kids activities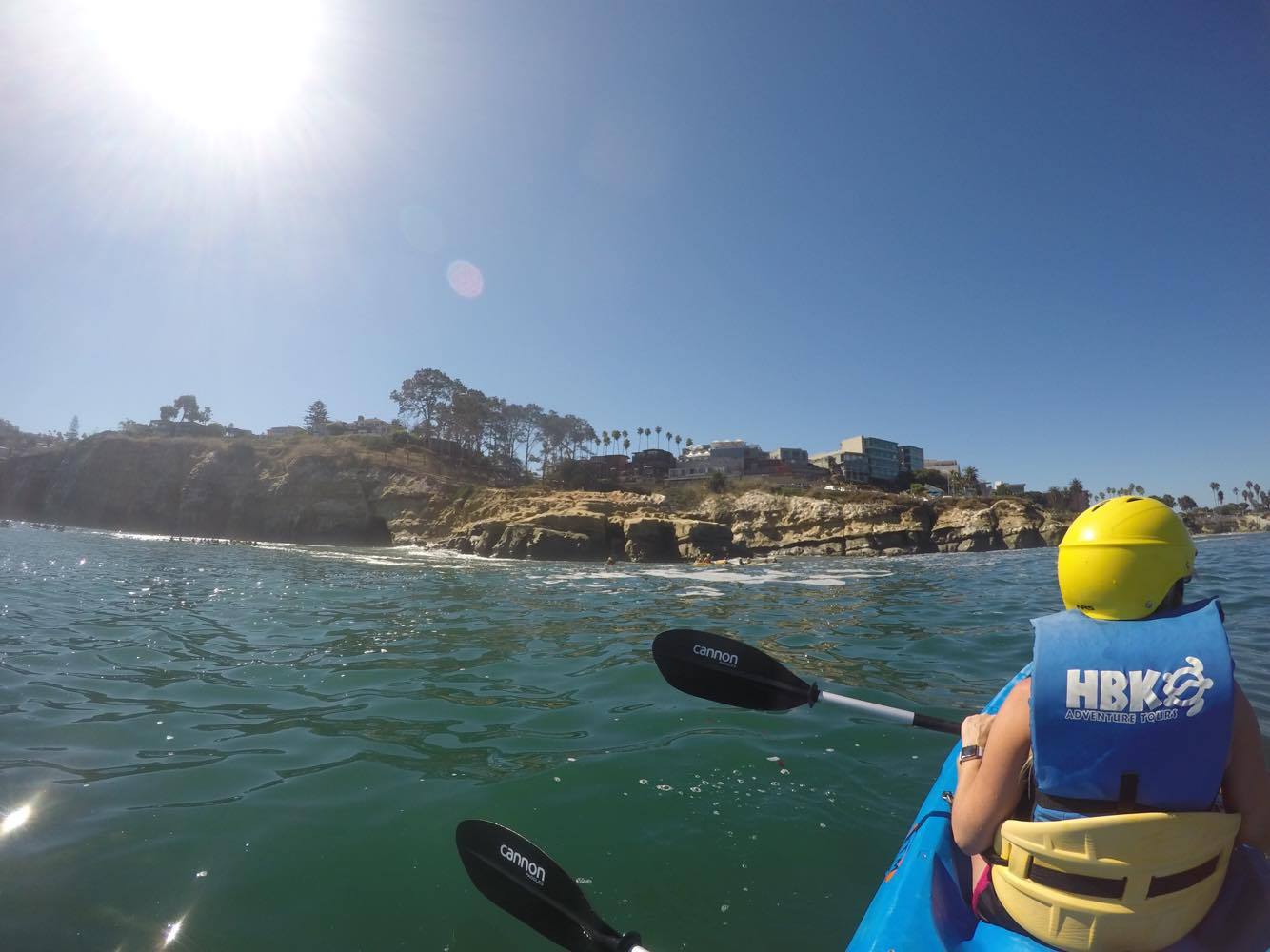 Another activity that is so much fun is kayaking in the La Jolla caves. We headed out and had an absolute blast. It is fun for kids and adults. The guides have great stories about Dr. Suess (who lived in La Jolla), cliff divers and all sorts of fun facts.
Then you head into the caves which is a one of a kind experience. Grab Tickets here to save money on your tour!
Learn to Surf – a great San Diego Kids Activity
Do you ever go on vacation with your kids and need their energy to run out. We took our kids surfing and it was one of the best things we did on vacation. There are a ton of great places to learn to Surf in San Diego. Our travel editor used Menehune Surf School with her kids and had an amazing experience.
Go Whale Watching
Whale watching in San Diego is the perfect thing to do for all your marine animal lovers! Hornblower Cruises has a ton of cruise options available. There most popular is the blue whale watching tour. Tickets are as little as $25
Birch Aquarium at Scripps
Cool off with the kids at this beautiful and interactive hands-on aquarium. Beyond the exhibits you will find educational shows, engineering challenges & more. We love watching them feed the different marine life. Check the feeding times here before you go.
---
Iron Mountain Trail
Head to Poway and check out the popular Iron Mountain Trail. This one may be best for older kids as it is 5.8 miles but if your kids like to explore they will be just fine. Just be sure to pack plenty of water, sunscreen, and snacks.
Find more information here!
---
The San Diego Botanic Gardens (sometimes FREE)
*free the first Tuesday of the month
The Botanic Gardens are great place to spend nice afternoons. You can walk around the trails for awhile and eventually end up in Hamilton Children's Garden, which is a really unique playground.
Make sure to check the website for all the kids activities available.
---
Coronado Summer Concert Series at Spreckels (FREE)
Summer nights in Coronado are breezy and perfect to set down a blanket in the park and listen to some live music. Coronado is an amazing place to be (check out my favorite things to do here)
Find more information here
---
Browse a Farmer's Market (FREE)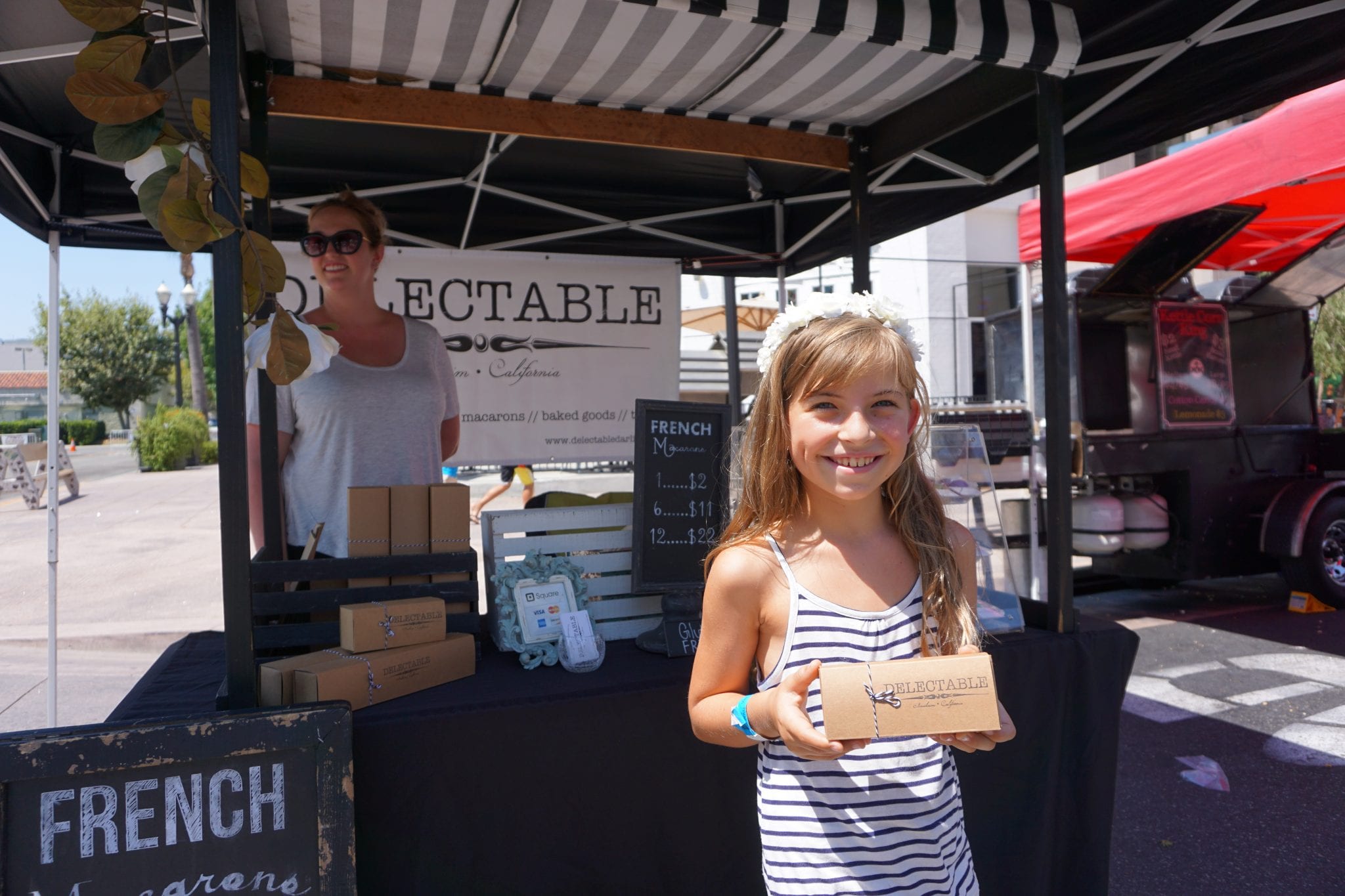 Farmer's Markets are a great place to pick up some fresh produce and show the kids where their food comes from. There's ton of great options in San Diego and varying days of the week.
Find more information here
---
Summer Movies in the Park (FREE)
San Diego offers movies in a couple of different parks around the city. There's one every Friday and Saturday. It's a great way to spend a relaxing evening.
Find more information here!
---
Cabrillo Monument & Old Point Loma Lighthouse (FREE)
These attractions being right next to each other is the perfect excuse to spend the day taking the scenic walk of Point Loma. AND, they both offer some pretty incredible views.
Find out more information here!
---
Kit Carson's Park & Queen Califa's Magic Circle (FREE)
This may not entertain you for a full day, but it's totally worth it to stop at this sculpture garden done by a renowned artist, Niki de Saint Phalle. There's also a surrounding area with duck ponds, a skate park, hiking trails and playgrounds.
Check here for the sculpture garden hours!
---
Mission Trails Regional Park (FREE)
Mission Trails is a great place to get out and enjoy nature as a family. Check out their schedule for days full of family activities.
Find more information here 
---
Picnic at Presidio Park (FREE)
Having a picnic is always a good idea, but it's even better when you can pop a bottle of champagne on the beach while having one. At Presidio Park and select other parks in San Diego alcohol is permitted from 8 am-8 pm. Date night!
Find out more here!
---
Fun Ways to get around Town in San Diego with Kids
My kids dread getting back in the car on our vacations. Sometimes its fun to break up the monotony by using a different form of transportation. San Diego has lots of different fun options to get around town. Here are our favorites:
Old Town Trolley Tours of San Diego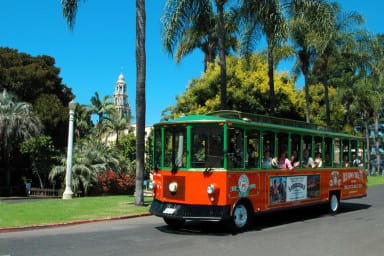 Old Town Trolley Tours seem to go hand in hand with a beach town. I have been on so many Old Town Trolley Tours from Key West to San Diego.
The kids and I always enjoy them. The drivers are always fun for the kids but also provide great fun facts about the city throughout the tour. It is also a great way to get around San Diego as the tour stops at many of San Diego's most popular spots.
Seal Amphibious Tour
I'll be honest, I was a little skeptical of these tours, but then we took a similar version in Washington D.C. and the kids absolutely loved it.
The Seal Amphibious Tour in San Diego is actually more fun then the one we had in D.C. as you can sea Sea Lions and possibly dolphins. The whole family will enjoy the experience.  Grab Tickets here!
---
Cool Dining in San Diego for Kids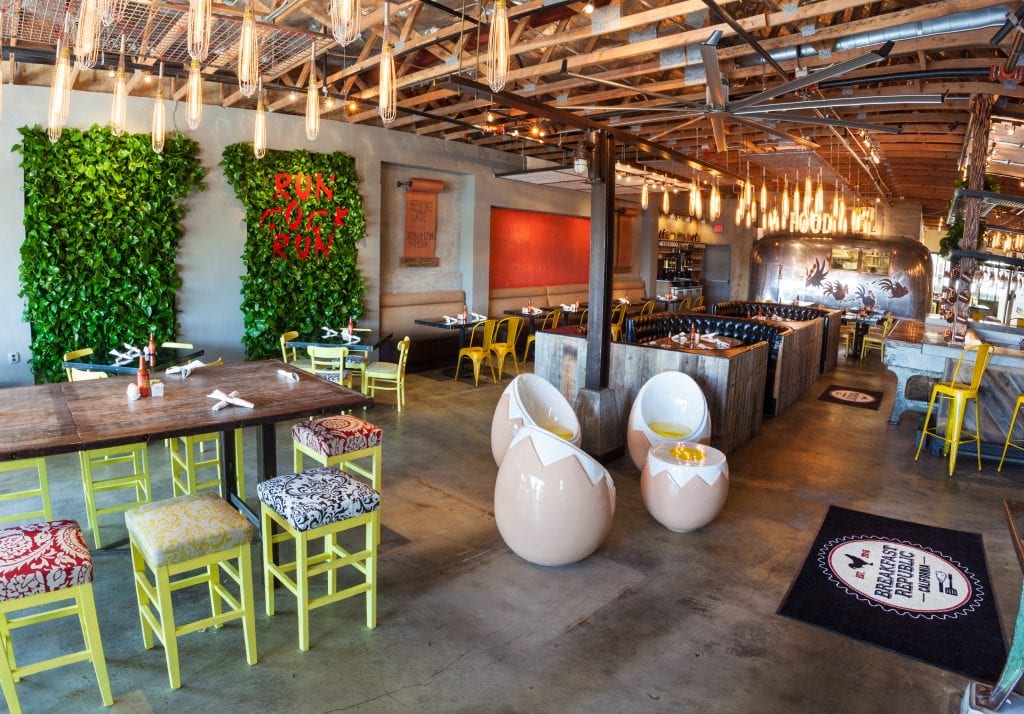 Breakfast Republic
Hit up Breakfast Republic in Ocean Beach for a fun themed atmosphere and delicious Cinnamon Roll Pancakes. Or head to Bo-Beau's Kitchen Garden for happy hour.
The kids will love the retrofitted school bus they can climb around on and the chalkboard wall is perfect for your aspiring artists.
Learn more here!
Liberty Station
Liberty Station is a modern public square with trendy restaurants and artisan shops. Their food hall also hosts over 30 artisan food vendors.
This is a great place to eat in San Diego with kids because there are so many places that everyone will find something they enjoy.
Plus, you'll be dining in a really cool environment and your kids might start to think you're hip….ok maybe not.
Check their event schedule and eatery listings here
Donut Bar
If you want to treat the kids to something sweet while in San Diego, this is the place. They have some of the most amazing donuts you will ever find, from maple bacon to unicorn donuts. These are some of the best donuts you will ever find.
Make sure to show up early as these donuts sell out everyday. Check out donut bar here!
---
A Great Way to Save on tons of Kid Friendly San Diego Activities:
The Go San Diego card is a great way to save money if you want to do a ton of events in San Diego. You can go to all the places listed below for as little as $82. The only catch is you only have a limited number of days to do so. But even if you only can do a few of these events it is well worth the price.
– LEGOLAND® California
– San Diego Zoo
– San Diego Zoo Safari Park
– USS Midway Museum
– Hornblower Cruises 1 Hour Harbor Tour
– San Diego Air and Space Museum
– San Diego Natural History Museum
– Reuben H. Fleet Science center with IMAX Movie
– Belmont Park All Access Combo Pass
– Birch Aquarium
– Knott's Berry Farm
– Knott's Soak City Waterpark
– San Diego Automotive Museum
– San Diego Museum of Man
– Model Railroad Museum
– La Jolla and Coronado Stand Up Paddle Boarding
– San Diego Museum of Art
– Japanese Friendship Garden
– Whale Watch by Newport Landing
– GoCar Tours, half hour tour
– Museum of Photographic Arts
– Kayak or Snorkel in La Jolla
– Hornblower Cruises – Summer Whale Watching
– Bike and Kayak Surf Board Rental La Jolla
– Bike Tour or Kayak Rental Coronado
– Living Coast Discovery Center
– UTC Ice Sports Center
– Dolby Theater
– PETCO Park Tour
– Museum of Making Music
– San Diego Art Institute
– Mingei International Museum
– Museum of Contemporary Art (Downtown)
– Whaley House
– William Heath Davis House
– Hollywood Behind the Scenes Tour
– Hollywood Museum
– Hornblower Cruises Whale Watch
– South Coast Shop & Dine Package
– Aquatica
– Speed Boat Adventures
– The New Children's Museum
Save money on the Go San Diego Card Here!
---
Where to Stay in San Diego with Kids
Kona Kai
One of my favorite resorts in San Diego is Kona Kai Resort. This adorable resort offers free bike rentals, some incredible dining and is located on the adorable Shelter Island.
Loews Coronado
If you want to stay on Coronado Island Loew's Coronado is one of our favorite places to stay in San Diego with kids. They have an amazing pool area with ping pong, connect four, billiards, and fun contests like hula hoop.
Plus for the adults, they have some delicious food and amazing cocktails. We have spent our entire day there and had an amazing time. This is my favorite place for a San Diego staycation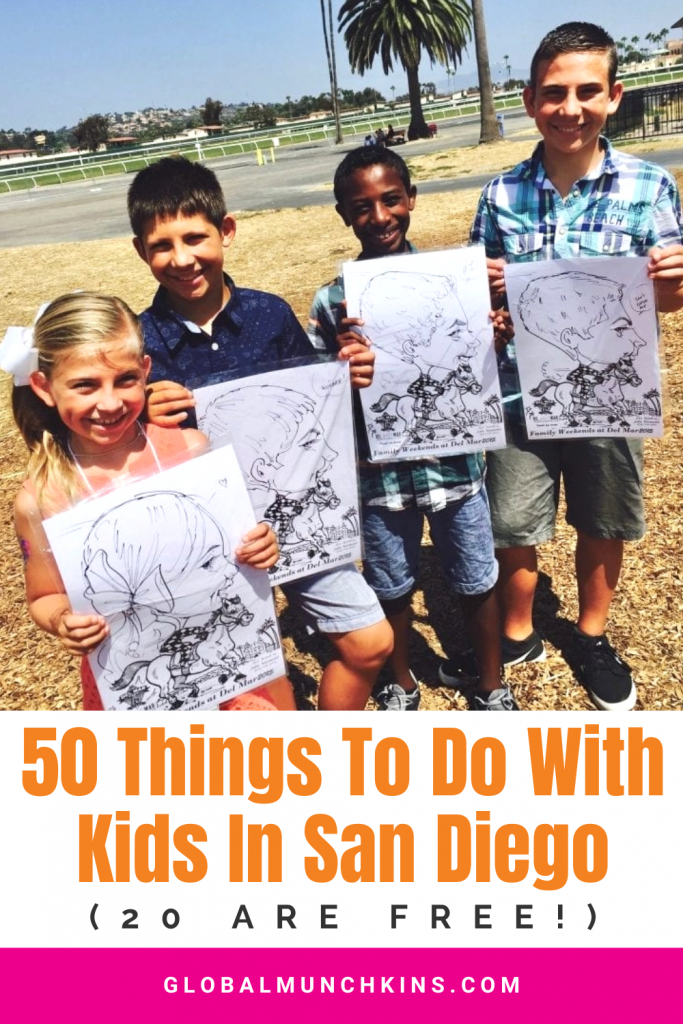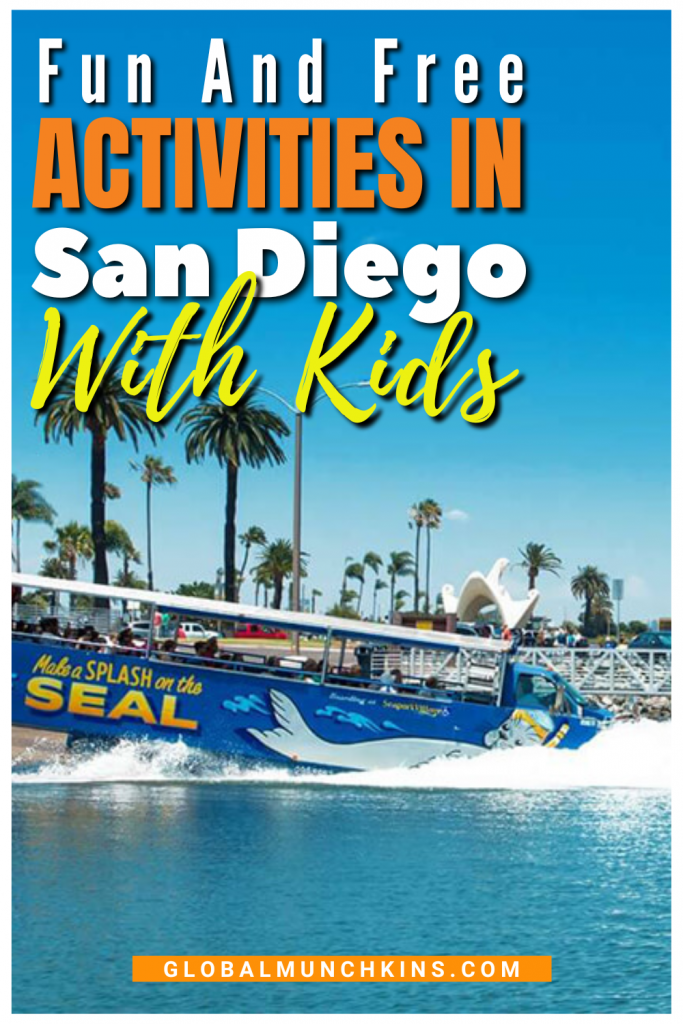 Airbnb Options
San Diego has some amazing Airbnb's available for families. You can stay in a beach side bungalow or even an iconic castle. You can check out my favorite San Diego Airbnb's here!
What Are Your Favorite Things to Do with Kids in San Diego?
Comment Below
What can you do for free in San Diego?
Mission Bay Park and Mission Bay
Moonlight State Beach
La Jolla Shores Beach
San Diego Embarcadero
Children's Pool La Jolla
Picnic at Presidio Park
Cabrillo Monument and Old Point Loma Linda Lighthouse
Torrey Pines State Natural Reserve and Beach 
Old Town San Diego State Historic Park
Balboa Park
Farmer's Market
Coronado Beach
What can you do with kids in San Diego?
Old Town San Diego
Cabrillo National Monument
The New Children's Museum
Torrey Pines State Natural Reserve
Carlsbad Flower Fields 
La Jolla Cove
Maritime Museum of San Diego
Birch Aquarium at Scripps
Sea World San Diego
Legoland California
San Diego Zoo Safari Park
Check out more of our favorite things to do in California below including one for Ventura from our friends at Y Travel Blog
Pin for Later: 50 Things to do with Kids in San Diego (20 are FREE!)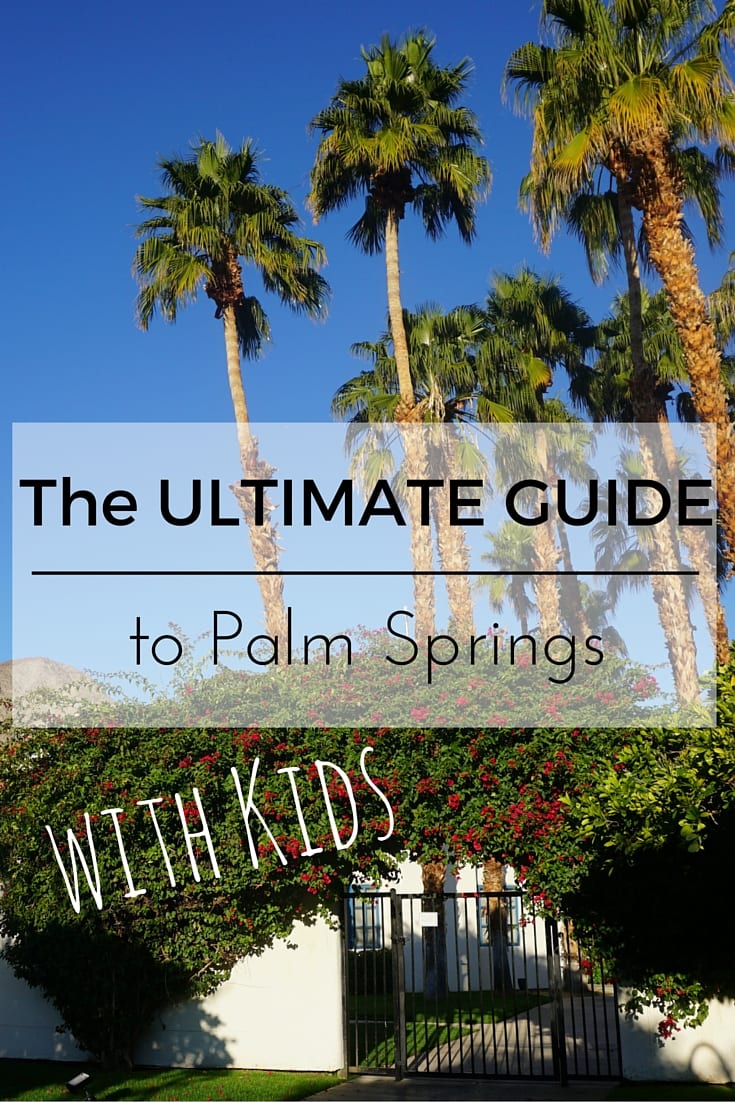 ---
50 Super Fun Things to do in San Diego with kids
San Diego Beaches
La Jolla Cove
Coronado Island
Gaslamp District
Kayak La Jolla Caves
La Jolla Swings
Belmont Park
Sea World
San Diego Zoo
San Diego Wild Animal Park
Petco Park
USS Midway
Waterfront Park
San Diego Natural History Museum
The San Diego Botanic Gardens