We love visiting San Diego with the kids, but traveling with 6 kids is always a challenge…for many reasons. One of the challenges is having to book hotel rooms, because you either need two hotel rooms, a suite or villa or to convince a couple of your kids it's "fun" to sleep on the ground. That is why we sought out some amazing Airbnb San Diego rentals for you.
Whether you're looking for a beachfront house with amenities for the whole family to enjoy or a studio apartment in the heart of downtown to give you a place to crash after long nights out in the Gaslamp District, we've got you covered.
Here are the 11 best places you will absolutely love for Airbnb San Diego.
---
Treehouse Airbnb
This treehouse Airbnb is certainly one of the more unique options that you'll come across in San Diego. It sits on the edge of San Diego's downtown area in Banker's Hill, which is only a short walk from Balboa Park and Little Italy. 
You'll get to stay in one of the three private rooms in this unique little treehouse, each of which has a double bed, a half-bathroom, and a lovely outdoor living room to kick back in the San Diego sun while enjoying the lush greenery. 
Beyond the external areas and your room, you get access to numerous meditation rooms, a media room with a TV, a full kitchen, and a range of indoor spaces. 
---
Two-Story Spanish-Style Guest House
Located in the gorgeous North Park neighborhood, you'll find this fresh and modern Spanish-style Airbnb. North Park is a great area to stay, with plenty of cafes, music venues, microbreweries, and more. 
This Spanish-Style guest house can sleep up to four and offers plenty of privacy. You'll find a large living area and kitchen in the downstairs area, as well as a cozy TV area and bedroom upstairs. 
Make sure to enjoy the upstairs deck and patio, which comes complete with a BBQ grill and dartboard!
---
Serene North Park Garden Studio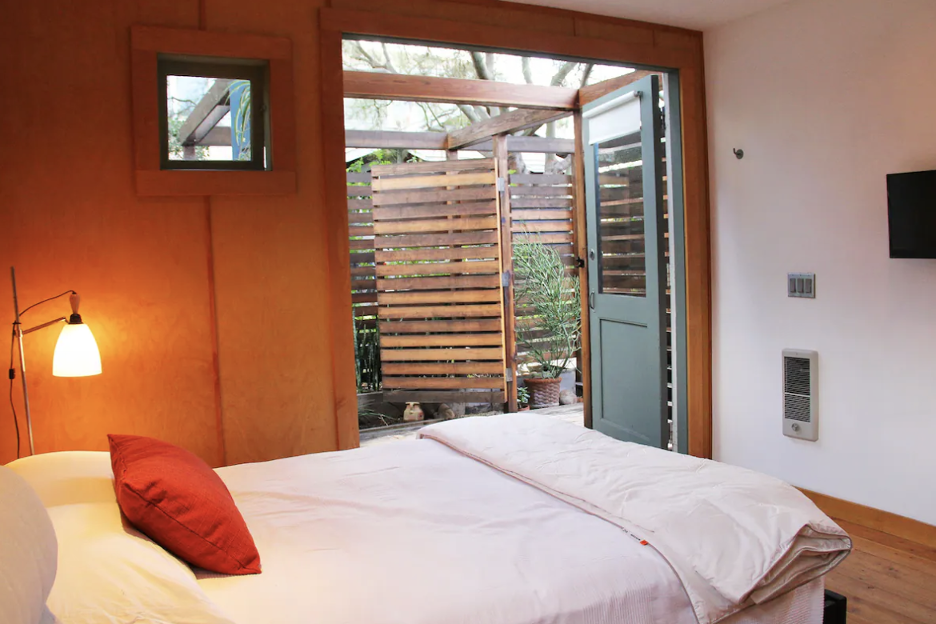 If you're looking for a cheap yet luxurious San Diego Airbnb,  you won't find an option that gives you the same kind of value as this hip and serene garden studio in North Park. North Park,  as we said before,  is an incredibly entertaining neighborhood with tons of trendy restaurants and exciting activities.
This garden guest house has a quiet little sleeping area, a small kitchen and stove, a private bathroom, and a pleasant garden deck that you can step out to in the morning to soak in that clean San Diego air.
---
Unique Geometric Dome House
This Geometric Dome House is certainly one of the most unique Airbnbs in all of San Diego. You'll find a sphere-shaped, metallic exterior, which differentiates it from any home in the area.  The home was built back in 1967 by the hands of local college art majors, and you can certainly see the creativity put into it. 
The geometric dome's interior provides a stylish aesthetic with a lofted bed, an adorable chalk wall and large glass windows to let the San Diego sunshine pour through. You'll even find a small outdoor deck and a fully stocked kitchen. 
---
Peaceful South Park Casita
If you're looking for a quiet getaway in San Diego, this peaceful South Park Casita might be the place for you. Enter through the courtyard with the sound of a calming fountain and friendly hummingbirds fluttering by, and be greeted by the cool blue color scheme that runs throughout the house.
You'll find a beautifully tiled bathroom, a cozy bedroom, a small laundry room, and a kitchenette, giving you all the amenities you need to enjoy your San Diego vacay. Make sure to take advantage of The Incredibles location surrounding this Airbnb, which lies just blocks from the San Diego Zoo and Balboa Park. 
Are you planning on visiting the San Diego Zoo while you are in town? Did you know you can get discounted tickets? Check out our post here!
---
Three-Bedroom Beachfront Home
This ocean-inspired, three-bedroom beachfront home is one of our favorite Airbnbs in all of San Diego. You'll find breathtaking views on the shores of Imperial Beach. Plus, you're just a few steps from the Imperial Beach pier, where you can watch surfers riding waves and breathe in the fresh ocean air. 
The decor is very ocean-centric, embracing blue and orange colors throughout the interior. You'll find more than enough room for nine guests to sleep, a large outdoor patio to enjoy the beautiful San Diego weather, and a fully-stocked kitchen to cook up large dinners for the whole party. 
---
Gorgeous Villa with Pool
This stunning San Diego villa is almost like its own private resort. You'll find a private pool complete with a slide and outdoor seating, more than enough seating for ten people, and a massive kitchen with elegant hardwood that's perfect for hosting an array of guests. 
There are plenty of tasteful architectural additions to this large home, including an open floor plan, lovely stone walls, and a gorgeous ocean view. The place is situated in the center of Mission Bay and La Jolla, allowing you to access everything from the waters at Mission Bay Park to the kayaking and sea lions at La Jolla Cove.
---
Zen Studio in South Mission
This beautiful little Zen-like studio in South Mission Beach offers a natural wooden interior from the floor to the ceiling. Up top, you'll find a large skylight that allows natural light to come through.
It's an excellent place for people that want a relaxing walk to the beach or to let loose in the waves on the complimentary boogie boards. There is easy beach access, private off-street parking, and a small patio with a personal grill.
Overall, it's a wonderfully relaxing space next to the beach with all of the best amenities you'd need to elevate your vacation.
---
Cozy Studio with Private Patio
If you're looking to escape the hustle and bustle of the city, check out this cozy studio in San Diego's historic Mission Hills area. The studio sits within walking distance of a number of restaurants and coffee shops, and is only a quick drive away from many major San Diego attractions. 
You can seamlessly transition between the inside and outside with the large French Doors, giving you a plentiful sense of space. Beyond its stylish aesthetic, it's a very practical Airbnb, including a comfortable bedroom, a full bathroom, a modern kitchen, and a private laundry room. 
---
Relaxed Gaslamp Quarter Loft
This relaxed Gaslamp Quarter loft lies in the heart of downtown, deep in the midst of several bars, restaurants, nightclubs, and more. If you want to stay in the middle of the action, this is the perfect spot. 
The loft fits up to five people with two queen beds and a sleeper sofa. It's a pet-friendly Airbnb too, meaning you can bring your furry friend along for the trip. 
Beyond its proximity to Gaslamp attractions, you have tons of amenities baked in, including a full kitchen, a washer/dryer, a full bathroom, and an open living room.
---
Urban Retreat
This little one-bedroom unit in the heart of Downtown San Diego is within a short distance of Petco Park Stadium, the San Diego convention center, and a number of great restaurants and attractions. We love the spacious balcony, bohemian-style decor, and the large record player, which you can use to listen to the many included records while sipping on your morning coffee.
It's a nice little reprieve after a long day in the city. 
---
The Takeaway
Whether you're looking to soak in some rays at the beach or enjoy the fine eateries spread throughout downtown, there are plenty of ways to enjoy San Diego. Staying in one of these fine Airbnbs can be the cherry on top of your sunny Southern California vacation. 
Pin it for later: Airbnb San Diego – 11 Amazing Places – Perfect for every budget!
If you enjoyed this article check these ones:
50 THINGS TO DO WITH KIDS IN SAN DIEGO (20 ARE FREE!)
ROAR AND SNORE SAN DIEGO: THE ULTIMATE GUIDE TO SAN DIEGO ZOO'S SLEEPOVER SAFARI
[10 EASY WAYS] TO SCORE SAN DIEGO ZOO DISCOUNT TICKETS
SAN DIEGO TIDE POOLS; GUIDE TO THE 10 MOST INCREDIBLE TIDE POOLS