Whether it is summertime or spring break, I am always trying to find a way to entertain my kiddos. Often that means taking a trip to Starbucks, which can get pricey with 5 kids.
Since we haven't won Starbucks for Life, I decided we should start making some of our own Starbucks drinks as a fun way to entertain the kids and save some serious money.
You don't have to be a skilled, fast-paced barista to craft the perfect drink. My daughter's favorite drinks are the Starbucks Strawberry Acai Refresher and of course Pumpkin Spice Frappuccinos, so that is the first one we learned how to DIY and make a healthy option as well (which I think is actually better.)
Let's get to it, the best DIY Strawberry Refresher!
---
Make Strawberry Acai Refresher at Home in Less than 15 Minutes
Are you ready to learn how you can enjoy this classic summer beverage from the comfort of your own home? We'll also throw in a healthier alternative. Let's get into how this is possible, shall we?
My friend is a former Starbucks Barista, as making Strawberry Acai Refreshers was one of her favorite drinks to make. It was a 3-step process for baristas. We would fill the Acai base to a line in a pitcher, add water, add a scoop of berries and shake exactly 10 times. 
Unfortunately, Starbucks does not sell a retail version of the Strawberry Acai base used in stores. However, you can make the base yourself at home!
---
Ingredients for the Strawberry Acai Base Syrup
For the Strawberry Acai flavor base syrup, you'll need:
Believe it or not, the best part about this recipe is it takes under 15 minutes to assemble!
An additional plus of making your drink at home is the health benefits of no unnecessary added ingredients. You can also control how sweet you want your beverage to be by choosing to add less or more sugar.
Next, you'll create your water mixture. For this, you'll need:
Surprisingly, Starbucks Strawberry Refreshers are indeed caffeinated. While they don't have nearly as much caffeine as a cup of coffee, it's still enough to wake you up.
That makes this a perfect Starbucks Refresher drink to begin your day with if you're not a coffee lover. The caffeine comes from the green coffee bean powder. Fun fact, ALL coffee beans are naturally green before they're coated and flavored for production. I have seen some recipes also call for green coffee bean extract.
---
Here's the full recipe  – Copy Cat Starbucks Acai Refresher
Serving: 16 oz
Serving size: 1 glass
Ingredients
Acai Syrup:
½ cup freeze-dried strawberries
¼ cup white sugar
½ cup filtered water
1 tsp Acai Powder
Concentrate
¼ tsp Green Coffee Bean Powder
½ cup white grape juice
1 cup cold filtered water
Ice
Directions to Make Your Strawberry Acai Refresher
In a saucepan over high heat, bring the freeze-dried strawberries, sugar, ½ cup filtered water, and Acai powder to a boil. Lower heat and simmer for 8-11 minutes until a syrup texture is formed.
Into a mesh strainer over a bowl, pour in the strawberry mixture to separate the syrup. Make sure all liquid is released and allow the syrup to cool down for 10 minutes.
Fill a glass with ice, grape juice, and cold water. Then add in the green coffee bean powder. Shake to mix together.
To finish, add remaining freeze-dried strawberries.
Enjoy!
---
Healthy Alternatives
We don't like to give our kids too much sugar, so we made some subtle adjustments to the Starbucks Strawberry Acai Refresher. 
Substitute for 1/4 Cup Sugar – Two Tablespoons of Monkfruit Sweetener
Substitute 1/2 cup White Grape Juice for 1/2 cup Water 
---
In-Store Starbucks Money Saving & Healthy Hacks!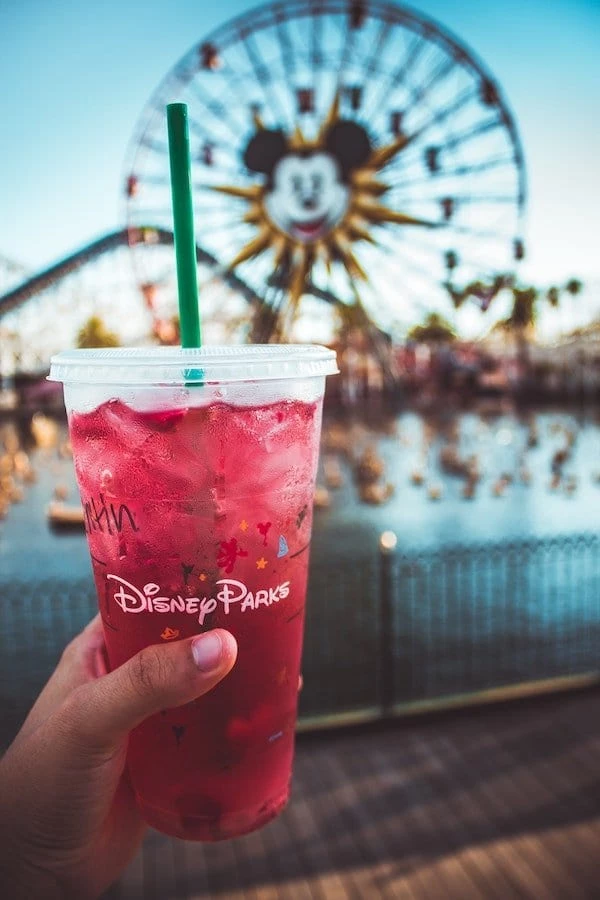 Hey, sometimes we might still want to make a run to our favorite Starbucks. Here is how to get the most out of your Starbucks Strawberry Acai Refresher Order!
You can add extra of anything into your drink for free as long as it already comes in the drink. For example, if you order a Caramel Macchiato, you can add extra caramel drizzle for no additional charge. This means that you can add extra strawberry base for free! (when ordering this way, say "light water, extra base, please").
Order your drink with light ice to get more drink for your dollar. You can always order a cup of ice on the side.
To embellish your order, sub lemonade for water. It's delicious!
The pink drink is the Strawberry Refresher with coconut milk instead of water. For a healthier alternative of the pink drink, order unsweetened iced passion tea lemonade, no water, sub coconut milk, add freeze-dried strawberries, and 2 packets of Stevia.
Order a Strawberry Refresher with lemonade and ask to have it double blended for the BEST slushie of your life!
Thanks for taking the time to learn how to make your very own refresher at home for half the price! Enjoy the Starbucks hacks, and happy beverage crafting.
---
Let me know how your Strawberry Acai Refresher  turned out in the comments
---
If you enjoyed learning about our DIY Starbucks Strawberry Acai Refresher, you might also enjoy:
Super Simple DIY Starbucks Passion Tea Lemonade
How to Make Starbucks Pink Drink (+ 2 Variations!)
---
Frequently Asked Questions about the Starbucks Strawberry Acai Refresher
What is in a Starbucks Strawberry Acai Refresher
How much caffeine is in a Strawberry Acai Refresher
The Starbucks Strawberry Acai Refresher does have caffein as green coffee bean powder is in the drink. The drink has anywhere from 45-55 milligrams of caffeine in a grande cup.
Are there other ways to make a Strawberry Acai Refresher Recipe?
There are a lot of Starbucks copycat recipes that include other strawberry flavors, passion fruit, natural green coffee flavor and more.
Is the Starbucks Strawberry Acai Refresher a refreshing drink?
If you enjoy fruity drinks, then this Starbucks drink is for you! It also is very refreshing on a hot day!
---
Pin for Later – Amazing! DIY Starbucks Strawberry Acai Refresher [In Just 15 Minutes]