Visiting Universal Studios Hollywood is probably on the top of your bucket list if you're a fan of cinema and theatre. The tram ride is pretty amazing, there are so many great new additions including the upcoming Nintendo World.
We are going to break down the first thing you need to know about parking at Universal Studios Hollywood.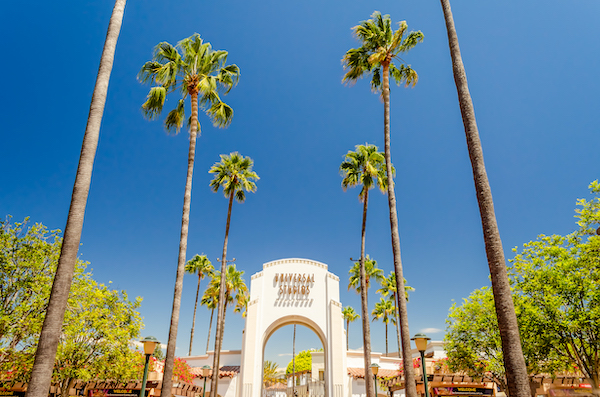 Of course, it shouldn't come as a surprise that the studio is immensely crowded on weekends and during summer vacation, when most people can find the time to visit. In such a situation, it becomes nearly impossible to find a good parking space at Universal Studios Hollywood, and that too, at a reasonable price.
Let's first start with why Universal Studios Hollywood attracts so many people from all over the world and what you will get to see there. Check out our tips below about parking at Universal Studios Hollywood!
CINEMATIC ATTRACTIONS
With such an enormous Harry Potter fanbase across the world, the studio is looking to attract fans to their theme park, 'Wizarding World of Harry Potter.' It'll be a dream come true once you go inside and re-live all the iconic scenes in the series.
You'll even get a chance to see some of the beloved characters from movies 'The King Kong Kingdom,' 'Pirates of the Caribbean,' 'Despicable Me,' 'Hill Valley,' 'Back to the Future,' and the 'Simpson's Ride.' They have newly installed rides and roller coasters that move at super-fast speeds with cool 4D effects.
---
UNIVERSAL STUDIO TOUR
Besides walking through the movie sets, you can feel what it's like to be on the set. You'll see how they change the weather, for example, from good weather to rain or a flood all at once.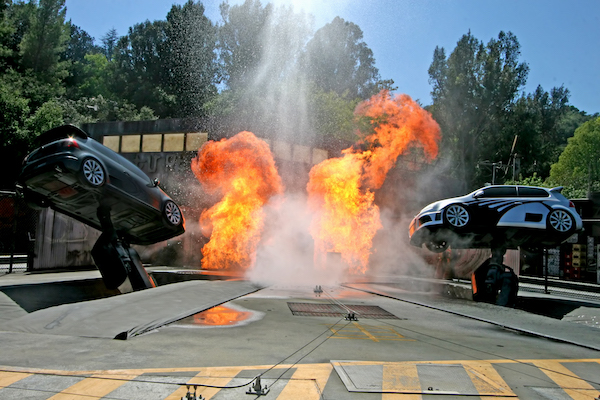 Subway accidents, fights between King Kong and a Dinosaur, and a high-speed car chase at the Fast & Furious set are just some of the exciting attractions you should prepare to see.
---
SHOWS
Universal Studios schedule numerous shows for the visitors who arrive. You'll need to check out the schedule beforehand and get a ticket so that you arrive before it starts. Some of the spectacular shows you'll enjoy include:
Casting spells with magic wands by 'The Wizarding World of Harry Potter
The re-release of the famous movie the 'WaterWorld'
A 'Special Effects Show' to learn about what goes on behind the actions and stunts you watch in a movie
A show about the famous actors who played animal characters in 'Universal's Animals Actors'
Great visual effects from the movie 'Kung Fu Panda'
A show with all the Jurassic World Rides called the 'Raptor Encounter'
---
UNIVERSAL CITY WALK HOLLYWOOD
The City Walk is worth checking out if you have some time left to explore Universal Studios. It is adjacent to Universal Studios, which operates for 12 hours after opening at 11:00 am. Here, you can enjoy fun-filled activities and entertainment like live music, movie theaters, and even several dining options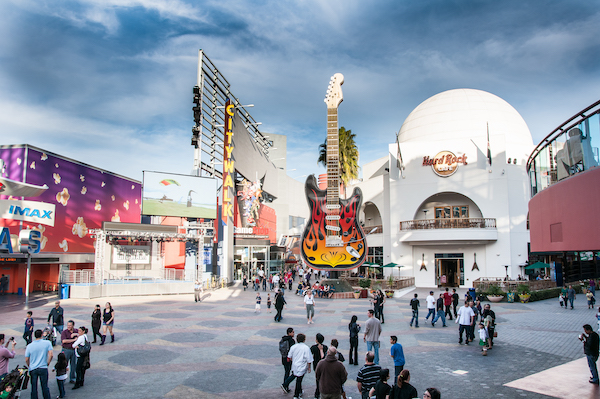 ---
Considering the number of attractions the theme park offers, you may have some idea as to why it's difficult to find parking options for Universal Studios Hollywood. Here are some details on how you can get easy and affordable parking when visiting.
PREFERRED VS REGULAR PARKING
Preferred parking at the studios, which you may know as valet parking, is costlier than regular parking. Preferred parking is a bit closer to the park entrance.
If you plan to spend approximately four hours at Universal Studios or intend to come early, it's better to have preferred parking, as long as paying the extra parking fee doesn't bother you.
If you don't plan to visit the amusement park until the afternoon or the evening, it's better for you to get a regular parking space. This way, you can save yourself some money and get a nice parking spot near the gate, especially on weekdays.
---
PARKING SPOTS
Parking spots at Universal Studios are categorized according to famous movies by the production company, such as Frankenstein, ET, Woody Woodpecker, and Jurassic Park.
You can't choose your parking spot by yourself as you'll have to park on a first-come, first-serve basis. The maps and the signs will help you navigate your way through the parking areas.
There are special spots for Hybrids and electric vehicles if you have one. To get a convenient parking space, inform the park management at the entrance, so the staff can guide you towards a designated parking area.
The park has also set up charging stations for electric cars in case your battery runs out during your visit. You'll find electric car charging stations at the Woody Woodpecker lot, Jurassic Parking Garage, ET Garage, and Frankenstein Garage.
There are also designated parking lots for handicapped visitors as well. To access a parking spot, you need a proper parking permit and should display it on the windscreen. You'll find these garages in City Walk Link and on the third floor of Universal Studios.
---
ANNUAL PASS HOLDERS' PARKING
If you're a Hollywood fan and plan to visit the park more than once a year, getting an annual pass is a good idea. This pass offers great deals, and if you get a gold or platinum pass, you get complimentary upgrade to free parking for Universal Studios Hollywood as well.
It's a good deal to upgrade your annual pass to Gold because regular parking costs $25 before 6. With a Gold pass, you can get free parking space.
---
VIP PARKING
If you can afford it, then a VIP certainly makes for a highlight of your trip. A VIP tour offers complimentary valet parking in the Frankenstein parking lot, which usually costs around $45 for regular visitors. VIP visitors can enjoy special parking spots, valet parking, and a luxurious tour.
And if you think that you won't have a hard time finding a parking spot, you're wrong. It's possible that you won't get a good parking space because it's the weekend and many people are visiting the park.
Of course, some people don't want to pay extra for parking space and would prefer an alternative. Or, they may not be able to find any parking space at the park at all. In that case, here are some alternatives when you're looking for parking for Universal Studios Hollywood.
---
METRO STATION PARKING
If you don't get a parking spot in the studio or park or simply don't want to pay, you can park at North Hollywood Station and Metro Station. They offer affordable parking that's much cheaper than on-site parking at Universal Studios Hollywood.
They only charge $3 for a full day of parking, which is super convenient if you visit there. Plus, there's no obligation to ride the metro if you park your car there. Plus, you're just a 13-minute walk away from Universal Studios and Park.
---
PARKING NEARBY
Another option is to park in the nearby neighborhoods. Sure, they may be a little far, but from there, you can call a Lyft or Uber service, making it quite affordable to reach the park. When you call an Uber or Lyft, it'll take you about 5 minutes to reach the main park.
Just don't forget to read the signs before you park to avoid looking for another parking space because the first was a no-parking zone.
---
HOTELS WITH FREE PARKING & COMPLIMENTARY SHUTTLE SERVICE
If you plan to spend your vacation exploring Universal Studios Hollywood, you will probably stay at a nearby hotel or resort. Lucky for you, some of the best-rated hotels near the park offer free car parking. In addition, their shuttle service helps you visit the park and get back to your hotel quickly.
These hotels offer other services as well, such as complimentary breakfasts and dinners. In addition, keep your eye out for the signs for the complimentary shuttle! What's better than getting free parking for Universal Studios Hollywood by staying here. This allows you to enjoy many benefits with a single pass.
---
PROMOTIONS & DEALS ON THE WEBSITE
Another way to get some great deals is to keep checking the website for amazing promotions that meet your needs. For example, you can get a parking space at the Universal City Walk for $5 if you watch a movie in the theater.
Additional benefits also come from time to time, and specific packages include parking benefits. So, keep going through their website now and then to get a deal for parking benefits.
For your reference, here is a chart that outlines the parking charges per vehicle:
General parking, before 5 pm, will cost you $28.
General parking, after 5 pm will cost you $10.
Preferred parking before 5 pm is $40.
Preferred parking after 5 pm is $20.
Front gate parking is $60.
General parking all day for Halloween Horror Nights is $28.
Preferred parking all day for Halloween Horror Nights is $40.
Front gate parking all day for Halloween Horror Nights is $60.
However, these charges are subject to change. Parking rates can change without prior notice.
For discounted tickets to Universal Studios Hollywood check out it out here!
---
PARKING FOR UNIVERSAL STUDIOS HOLLYWOOD – KEY TAKEAWAYS
Considering how Universal Studios Hollywood is home to some of the biggest pop culture attractions in the world, you can expect to have trouble finding a good parking spot. And you're not alone. Many visitors want to get a convenient parking space when visiting the park with their families.
We hope this guide and the above information will help you identify the various parking spots in the main theme park. Now, you may have some idea about where you can park if you don't get space at the park or don't want to pay a hefty amount for parking.
We hope this guide helps you find convenient parking at Universal Studios Hollywood.
If you enjoyed this article on Parking at Universal Studios Hollywood, you might also like:
10 EASY WAYS TO SAVE! UNIVERSAL STUDIOS HOLLYWOOD DISCOUNT TICKETS!
UNIVERSAL STUDIOS HALLOWEEN HORROR NIGHTS ULTIMATE GUIDE + PRO TIPS
12 WAYS TO SNAG DISCOUNT SIX FLAGS MAGIC MOUNTAIN TICKETS
KNOTT'S BERRY FARM DISCOUNT TICKETS [11 EASY WAYS] TO SAVE MONEY
Pin for later