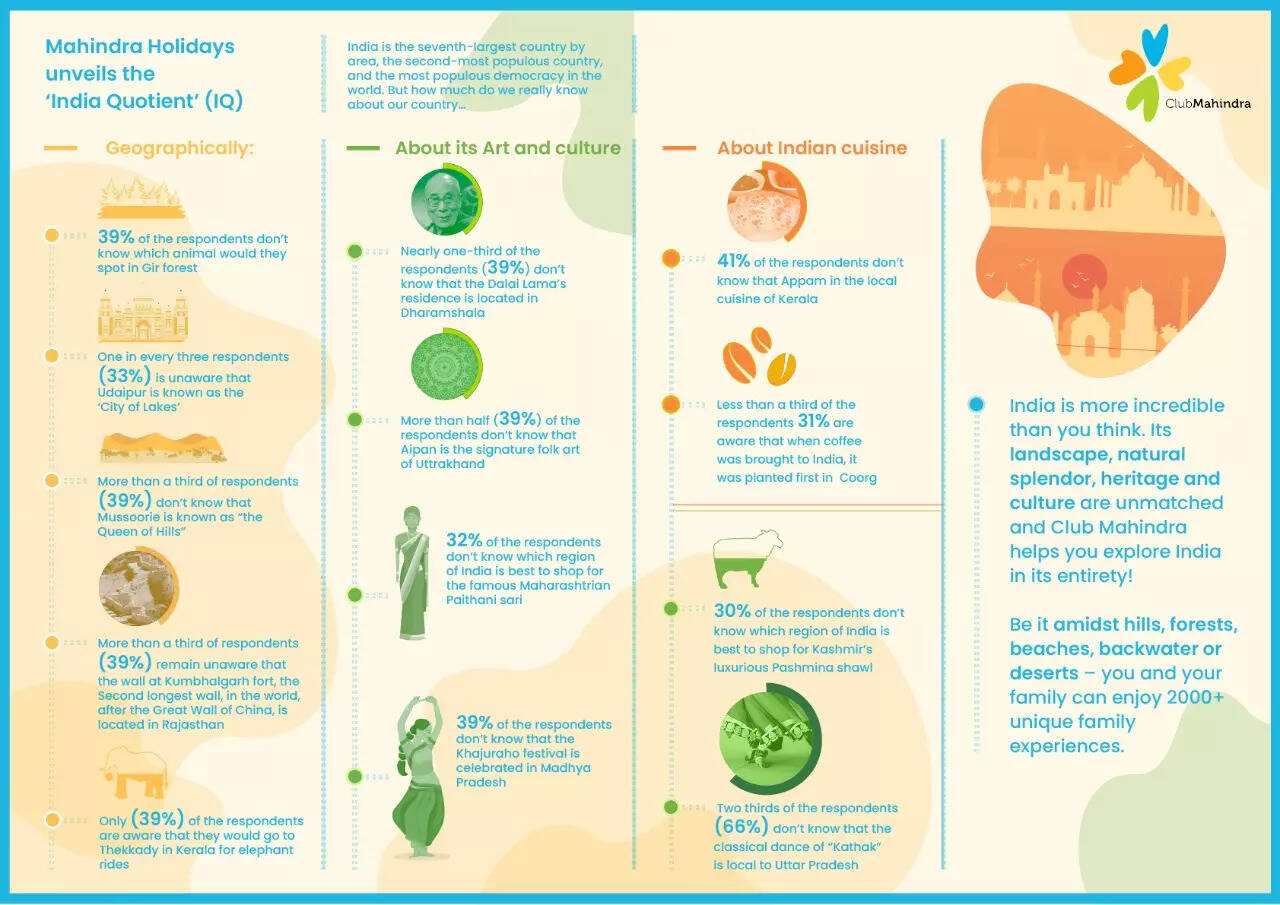 Mahindra Holidays
& Resorts limited recently published the findings of its '
India
Quotient' study, outlining how much the Indian travellers know about their own rich culture, heritage, and food. The study, involving over
,
4000 respondents across 16, Tier I and Tier II cities, and commissioned to mark Mahindra
Holidays
' 25 anniversary milestone, revealed interesting insights about the knowledge gap, awareness and depth of experiences available to local travellers and tourists and about the country's diversity, vastness, culture, heritage, and cuisines.
Sharing an exclusive insight from the study with ETTravelWorld, Mahindra Holidays revealed that preference of Indian travellers is changing in the post-Covid era and they are preferring vacation and family time over salary hike. Nearly one-third of respondents(31 per cent ) of the respondent claim would take an extra week of vacation with their family instead of a salary hike. While 27 per cent of the respondents claim that the top reason to take a family vacation is to bond with their family.
Study findings:
The Vacation Bonus
Earlier people would not even consider taking vacations instead of payment. However, today, the trend has changed. People have started cherishing family time. The environment at work is so stressful that quality time with family even qualifies as remuneration. The joy of an added bonus has been replaced by communication with the family members. People have recognised that family vacations focused on 'family bonding' eventually helps strengthen the relationship between the spouses and the children.
Secondary Data/Desk research:
In 2020, most travellers have had extended time apart from friends and family. For many, it appears that distance has made the heart grow fonder as 67 per cent of Indian travellers plan to use future travel as an opportunity to reconnect with loved ones
In fact, while being apart, 49 per cent have revealed talking to friends and family about travelling is one of their main inspirations to travel again.
On the findings, Kavinder Singh, Managing Director & CEO, Mahindra Holidays & Resorts India Limited, explained, "There has been an exponential rise in the local tourist visits, which was seen from the year 2000 to the present across the country. As people explore India, observe iconic Indian monuments and experience unique culture and cuisines of different states, they grow more curious about other aspects of India they don't know about and become eager to raise their 'India Quotient'. For instance, two-thirds of the respondent (66 per cent) seek out local cuisines when they are travelling with family, however, 41 per cent of the respondents don't know that Appam is the local cuisine of Kerala."