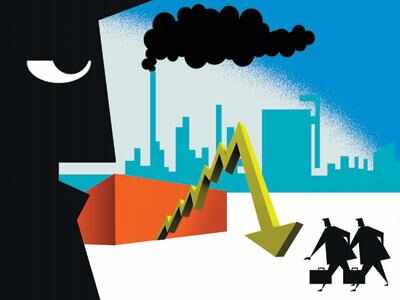 Meerut: The Meerut sports goods industry with an annual turnover of Rs 1000 crore is among the biggest in the country. Along with Jalandhar, it accounts for nearly 75% of the sports goods industry in India.
A month after demonetisation, the industry is yet to recover from the shock. Sales have dipped drastically, and small businesses have had to shut down. "Sales have come down around 80%. November and December would usually be the peak season for us, but you can see for yourself, there are hardly any customers. We are sitting at our shops with nothing to do.
"Usually, we would run out of equipment as demand would be higher than supply. We used to run behind the suppliers to increase the supply. Now, we have to ask them to reduce the supply. Some small businesses have had to shut down. Not everybody can afford to install card machines," said Alok Rastogi, who owns a shop in Surajkund and is also secretary of Sports Goods Vyapar Sangh, Meerut.
The Surajkund sports market in Meerut is among the biggest such market in the country. Athletes from all over India arrive here in search of quality equipment at affordable prices.
Sachin Singhal owns Ganpati Sports, a small retail outlet in Surajkund. In November, 2015, his shop generated a revenue of Rs 4 lakh. Now?
"Rs 50,000. That is it. It is all over. I even had a small manufacturing unit at the rear of my shop. It has been shut for a month now," he said.
For the micro sized units who generally supply goods to wholesalers, the story is even worse as they rely on cash entirely. Vinod Kumar Vaidya is part of a two-member unit which carves out bats and supplies to wholesalers. "We used to generate business of around Rs 20,000 every month before demonetisation. Since November 8, we have only done business worth Rs 2,000. There is not enough demand. "On the supply side, earlier we would get credit for up to a month. Now, the supplier wants cash immediately," he said. Sanspareils Greenlands (SG) is one of the biggest manufacturers of sports goods in the country and one of the world's most recognized cricket goods brand. Its size has protected it to some extent from the shock.
"But our business is down 25-30%. Less than one-third of the retailers that we supply to have card machines. The rest are traditional retailers reliant on cash. The small suppliers that we purchase raw material from have been affected badly. For the first week of demonetisation, they had completely shut down. Then, our workers have to go to the bank to withdraw money, which usually means taking a day off. We are now working at only about 70% of our capacity," said Shikhar Nehru, business unit head, Sanspareils Greenlands.