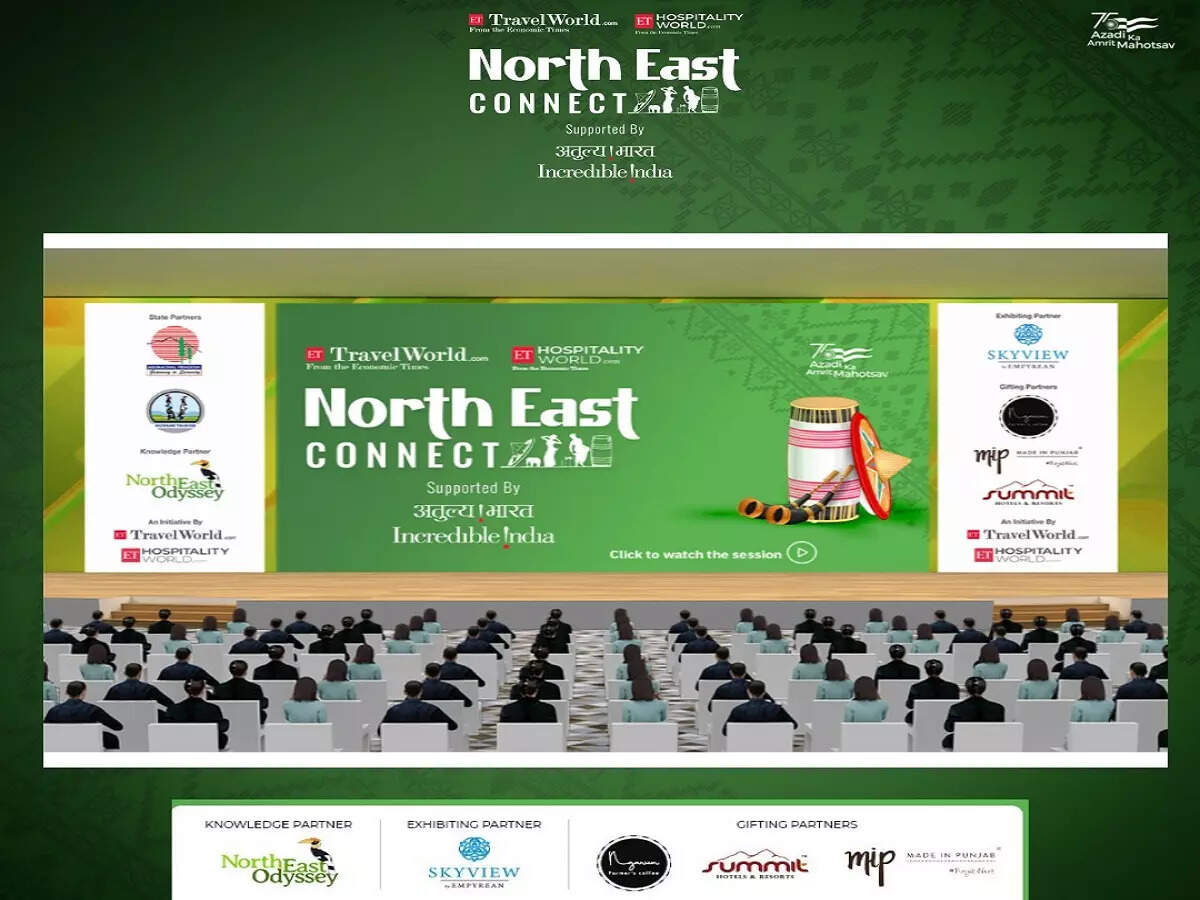 A major initiative to enhance tourism offerings of the
Northeast
India
, '
North East
Connect', the second edition of the annual showcase of northeastern states successfully created awareness about what all the eight Northeast states of India have to offer in terms of business opportunities, sustainable solutions, indigenous crafts, tourism, travel, hospitality, aviation and much more.
The initiative by ET TravelWorld and ET HospitalityWorld was supported by the Ministry of Tourism, Government of India and Arunachal Pradesh Tourism and Mizoram Tourism were the partner states. The Conclave was orgnaised in collaboration with exhibiting partner Skyview by Empyrean, knowledge partner Northeast Odyssey, and gifting partners Ngarum Farmer's Coffee, Summit Hotels & Resorts, and Made in Punjab.
Dignitaries attending the two-day hybrid event included guests of honors — Arvind Singh, Secretary, Ministry of Tourism, Government of India and Nakap Nalo, Tourism Minister of Arunachal Pradesh. There were a total of five panel discussions each for the physical and the virtual event on June 22 and 23.
Day 1 – Physical sessions highlight
Addressing the gathering after the inauguration, Singh said that the North East Region is a priority area for the Government of India and his Ministry is working tirelessly to support the tourism industry and stakeholders. While Nalo said that lack of development and proper infrastructure was the key issue in the region but the Prime Minister has pushed North East region to become the land of opportunity. He added, with more experiential and homestays launching, Arunachal sees a bright future ahead.
Whereas, Abu Tayeng, Director of Tourism, Government of Arunachal Pradesh mentioned that positive media coverage will bring the Northeastern to the limelight and encourage more travellers to explore the region. While, Vantawl Lalengmawia, Joint Secretary Tourism, Government of Mizoram emphasised on how sustainable, responsible and eco-sensitive practices can help region attract quality travellers while preserving the sheer beauty and nature.

Syed Junaid, Managing Director, Empyrean Skyview Projects said that bundling of the experiences leads to the creation of holistic approach and one such great way can be taking help from private institutions. MP Bezbaruah, Former Secretary, Ministry of Tourism and Secretary General, HAI sharing his views on North East said the region has tremendous potential for development and new areas and destinations have to be discovered along with curation of unique experiences.Antara Phookan, Director of Business Development and Design at Assam Bengal Navigation Co and Jungle Travel India (JTI) Group said that it is important to highlight everything that is naturally present in the Northeast, and promoting the natural abundance at the same time. "Marketing better. Price is a very sensitive issue in North East and people compare to high end luxury hotels."
Day 2 – Virtual sessions highlight
During the virtual sessions on Day 2 of the conclave, MP Bezbaruah discussing 'Mapping the growth of tourism in the North East' said that the northeast is very diverse. "The only generalisation you can make is that there is no generalisation that you can make." He added that craft, cuisine and state are the areas where we have to emphasise on. Whereas, prominent writer and filmmaker from the region, Bhaskar Hazarika said those making films in the northeast are not making them to attract tourism, they are only creating them to tell stories of the regional people. "There is a lot of authenticity and honesty you will get from those working in the NE film industry, which you might not find in people from Bollywood," he added.
Celebrity Chef, Ranveer Brar during his panel mentioned, "There are three aspects among which conversation is active, but we're looking at the west instead of looking eastwards, at our own country. Between fermentation, hyper-localization, and smoked meat is where we can really plant north-eastern food in the country."
While, Chef & Restaurant Consultant Sabyasachi Gorai stated that mother nature has blessed northeast in such a way that all of the seven sisters are nature's organic space in India. "We should create a personal connection with the food and beverages of these regions, instead of only viewing them as holiday destinations."
During a session on homestays, Piran Elavia, Founder, Kipepeo said, "We can, as stakeholders, contribute to tourism while also helping the local communities. Working with homestays helps us earn, further being sent to homes of locals who might host tourists for a local lunch, tour guides who might take them for a tour, and so on."
While, Pintso Gyatso, Secretary, Homestay Association of Sikkim mentioned, "The strength lies in the community to come together and bring these things forward – if there are limitations we want on the number of visitors in an area, it has to have a certain rationale."
Next edition?
By bringing together dignitaries from all over the country and across industries under one roof, the North East Connect set new benchmark and created a unique platform that tests the possibilities of collective effort towards a great cause. The next edition of the annual showcase will return with much fanfare next year in June 2023.