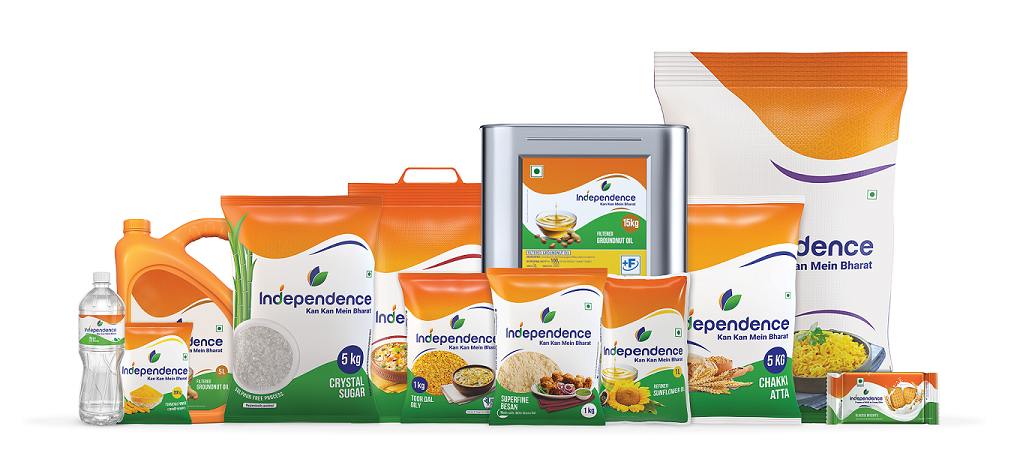 Reliance Consumer Products, the FMCG arm of Reliance Retail on Thursday announced the launch of its made-for-India consumer packaged goods brand 'Independence' in Gujarat.
The company will be selling products ranging from staples to processed foods and other daily essentials, it said in a statement. It plans to develop Gujarat as a 'go-to-market' state to create excellence in execution for its FMCG business and will be rolling out the brand nationally soon.
In the coming months, the company plans to step up the launch to cover FMCG retailers across Gujarat.
"I am happy to announce the launch of our own FMCG brand INDEPENDENCE which brings a wide choice of high quality and affordable products including edible oils, pulses, grains, packaged foods and other daily need products," said Isha Ambani, Director, Reliance Retail Ventures Ltd.
"The brand stands for 'truly Indian solutions for real Indian problems' which is articulated as – 'Kan Kan Mein Bharat', thereby evoking emotional attachment and instilling a sense of inclusiveness amongst Indians."
RIL Chairman Mukesh Ambani at the company's 45th annual general meeting in August announced its entry into the fast moving consumer goods (FMCG) market, directly competing with the likes of Unilever and ITC.
The company aimed to launch its FMCG business with an objective to develop and deliver high quality, affordable products that solve every Indian's daily needs, Reliance Retail Ventures director Isha Ambani said at the AGM.
Reliance Industries Ltd is in talks to acquire brands such as Garden Namkeens from CavinKare, besides other brands such as Lahori Zeera and Bindu Beverages in a bid to strengthen its fast-moving consumer goods (FMCG) play, people familiar with the development told ET earlier this year.
Reliance Retail Ventures Limited is a subsidiary of Reliance Industries Ltd and the holding company of all the retail businesses under the RIL group. It reported a consolidated turnover of Rs 1.99 lakh crore and net profit of Rs 7,055 crore for the year ended March 31, 2022.
With further expansion in network, the retail division garnered its highest gross quarterly revenue at Rs 64,920 crore, boosting operating profit by a tenth sequentially. The operating profit of the retail business in the first half of FY23 is equivalent to 75% of last year's total.
An earlier ET report showcased that Reliance's consumer-facing businesses, such as retail and phone services, are increasingly making up a disproportionate share of its operating profits. In the second quarter, these verticals contributed nearly half to RIL's operating profit, although their collective revenue share is about a third of the total.