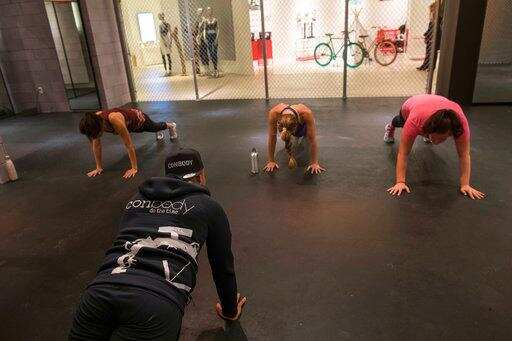 By Saliha Nasline
As people have become health-conscious and image-sensitive, so has the pursuit of fitness. Fitness enthusiasts today are mostly in the age group of 20 to 35 years, according to a study by Gympik, 'Weighing up Fitness'. The majority of the people in this age group are students and professionals. This section is primarily concentrating on looks and building a fit, toned and conditioned body.
Another section of the population focuses on fitness to avoid lifestyle-related diseases, deal with stress and strike a balance between professional and personal lives. There is a growing enthusiasm to increase stamina, endurance and enhance core strength.
Additionally, the acknowledgement of the fact that individuals who exercise frequently are happier and healthier, in contrast to individuals who do not indulge in physical activities, is adding to the popularity of this trend. Based on the study, here's why people think fitness is important…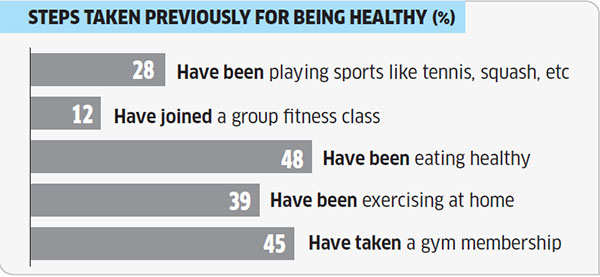 NEW-AGE TECHNIQUES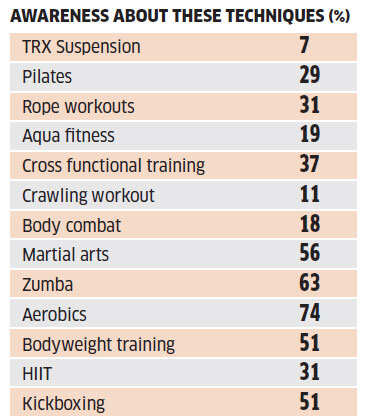 Fitness regimes like aerobics, zumba, martial arts, kickboxing, cross-functional and bodyweight training have been there for some time now and the awareness among the respondents reflects that. On the contrary, high-intensity interval training, pilates, aqua fitness and body combat are still on the rise on the awareness index. Crawling workout and TRX suspension are fairly new and still haven't reached the masses as such.
TRADITIONAL EXERCISES
There is a section of the population that still prefers traditional methods such as walking, running or sports over gyms in order to maintain their fitness levels. Almost half the population above 30 years of age prefers walking.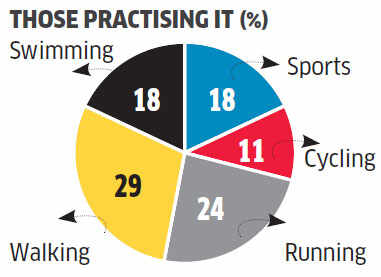 DIET PREFERENCE (%)
Seven out of every 10 people are not following any diet.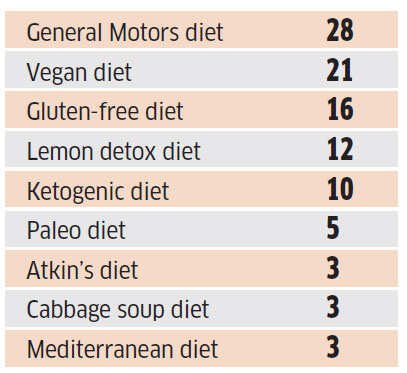 FITNESS AT HOME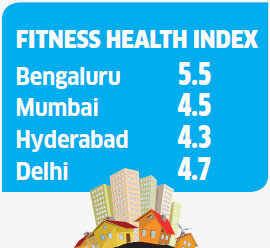 Personal trainers have become a medium where you can get fit faster than ever before. There exists the skepticism about hefty fee per month and a belief that trainers are only meant for celebrities. Even then, 44% of the population says that they will opt for a personal trainer at home.
KEY GROWTH DRIVERS OF THE INDUSTRY
Rising lifestyle diseases like obesity, diabetes.. Rising awareness of healthy lifestyle.. Growing disposable income.. Rapid urbanisation and westernisation.. Growing young population
Rs 95,000 crore: Estimated value of fitness market in India in 2017.
Rs 4,579 crore: Value of retail market for fitness in India at present.
Rs 7,000 crore: Expected value of retail market for fitness in India by the end of 2017.
16-18 per cent: Expected growth in the market in 2017.
"With current lifestyles and changing trends, it is important to adopt modifications that will make a healthier and fitter India. One should also make sure they (fitness enthusiasts) are following credible and certified instructors online. While workouts such as full-body training, abs workout, cardio, HIIT, spinning, sprinting, etc can be mastered through online classes, weight-training requires learning the proper techniques and postures and, hence, it is recommended that it be performed under the supervision of an expert trainer," says Amaresh Ojha, Founder, Gympik.