Williamsburg, Brooklyn is an up-and-coming neighborhood filled with chic, boho vibes, music, art, and a prevalence of young adults. The community has never been more lively following a rezoning in 2005, making Williamsburg a great destination for New York natives and tourists alike.
Manhattan draws millions of tourists worldwide each year with its tried-and-true sights and landmark attractions, but visitors need only take a short subway ride or hop over the Williamsburg Bridge to visit one of the hippest cities in all of New York.
Here are our favorite things to do in Williamsburg Brooklyn.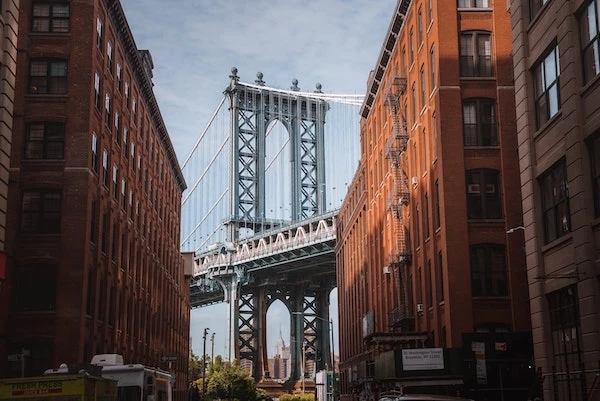 Our List of The Best Things to Do in Williamsburg Brooklyn
Why You Should Go
If you're headed to Williamsburg from Manhattan, going over the bridge might be the first activity you do anyway. New York natives often overlook the Williamsburg Bridge, considering it a component of commuting instead of an artistic and architectural attraction. 
Nonetheless, the Williamsburg Bridge, a cerulean suspension bridge constructed from 1896 to 1903, is a sight itself and offers walking, biking, photo ops, and a view of Manhattan and Brooklyn.
There are also plenty of restaurants in the vicinity or underneath the bridge for an unbeatable view. Grab a cup of coffee or a slice to get the day going when you first make it into town.
Why You Should Go
Just north of the Williamsburg Bridge you'll find Domino Park, a brand new public park that includes 5-acres of property, a dancing fountain, a children's playground, dog run, volleyball court, bocce court, and a sports field.
Opened in 2018, the park is named for the iconic Domino Sugar Refinery which was a conspicuous sight along the banks of the East River. The refinery operated throughout most of the 20th century, and was a total titan in terms of sugar production. It was for that reason that they shut it down in 2004 because they could no longer sell all that was being processed.
Now, parts of the refinery have been demolished and repurposed into functional pieces for the park and art. Reclaimed syrup tanks serve as statues. All wooden structures like planters and benches are made from wood that was used at the refinery.
Domino Park is not just a great public park, but it contains a storied history and shows us how we can combine recycling, reusing, and repurposing with recreation.
Why You Should Go
Another famous park on the border of Williamsburg and Greenpoint is McCarren Park. While Domino's 5-acres include everything you need in a quaint little hangout spot, McCarren sprawls across 36-acres. That's four city blocks!
The park features softball and soccer fields, volleyball courts, tennis and handball courts, and a running and walking track. On the east side lies the McCarren Play Center,  the Bathhouse, a great brick structure designed and constructed in 1936 by Robert Moses, and a sizable pool.
Unfortunately, the pool remains closed for the 2022 season due to the national lifeguard shortage. However, the adjacent bathhouse received historical landmark status as of 2007, and remains a site for tourists to visit nonetheless.
Why You Should Go
Brooklyn is known for their art and music scene among many other things, and one place where the effects can be seen is at Brooklyn Bowl. Right to the west of McCarren Park, Brooklyn Bowl sounds like your run-of-the-mill bowling alley, but it's so much more.
By day, families may enjoy Brooklyn Bowl as a great spot for food and bowling using their numerous high-tech lanes. In the evening, the place becomes a haven for live music acts, food, drink, and, you guessed it, bowling too!
Where else can you get a dose of live rock music while knocking down pins and knocking back brews? It's a unique experience, and guaranteed to stand out in your mind for years to come after a visit.
Why You Should Go
Head north to the William Vale Hotel and head to the 22nd floor rooftop bar, Westlight. The lounge offers balconies and glass-in sections that provide guests with a panoramic view of the skyline and near 360-degree viewing of Brooklyn and the adjacent Manhattan.
While the skyline is a visual feast, especially at night when the bright lights illuminate everything in sight, there's plenty to see at Westlight from the chic decor to the food and mixology artistry. Fare includes bar basics like sliders and other appetizers, while signature drinks and premium liquors comprise a comprehensive menu of cocktails.
Westlight is a great restaurant and bar, and a superb dining experience all-around.
Why You Should Go
For more beer drinking and retro recreational vibes, head south from McCarren Park and hit up Barcade, Williamsburg's bar-arcade combo that boasts vintage videogames and a wide selection of craft brews to sample.
Pac-Man, pinball, and Donkey Kong provide endless entertainment reminiscent of the arcade heydays of the 1980s. In keeping with this theme, most games cost merely a quarter, and patrons revive the old tradition of stacking quarters on the machine to signify their place in the queue.
Even without the video games, Barcade is a great place to have a drink because of their constantly rotating selection of high quality beers.
Why You Should Go
Founded in 1887, Peter Luger's Steak House is a cash-only old school steakhouse renowned nationally and globally as one of the best steakhouses anywhere in the world. Using only the finest and most robust cuts of USDA Prime beef, the steaks are second to none and cooked to perfection every time. For maximum flavor, Peter Luger's uses a dry aging technique on site that regulates the temperature, humidity, and air circulation.
There's a lot of tradition and care that goes into each Peter Luger's steak, and it very well may be the best steak you've ever had. The sides are standouts as well, and their creamed spinach may be just as famous as the beef.
You can't go wrong having dinner at the famous Peter Luger's. Just be sure to make reservations in advance, as the restaurant fills quickly, and bring cash.
Why You Should Go
Brooklyn and Williamsburg are renowned as havens for art and music, but also for fashion and style. A great place to find unique and distinct threads that you can't get anywhere else requires visiting any of Williamsburg's prevalent flea markets like Brooklyn Flea and Artists & Fleas.
Artists & Fleas is an especially eclectic marketplace where designers, collectors, curators, tastemakers and fashionistas converge in a creative community of shoppers and sellers. You might find one-of-a-kind styles to sport at your next night out or custom crafts that will work excellent in your apartment back home.
Flea markets may house all sorts of diamonds in the rough. To stop by and check out the wares, head north from Domino Park and the Williamsburg Bridge. Note that the markets are only open on the weekends.
Why You Should Go
Nitehawk Cinema is an independently-run theater founded in 2011 to provide more than just the movie, but a viewing experience like no other. The theater enjoys status as the first movie theater in New York State to receive a liquor license and the first to provide table service during the movie.
The food is excellent at Nitehawk Cinema, and patrons can enjoy a wide variety of cuisines including American usuals like burgers and salads and Caribbean cuisine like jerk chicken tacos and shrimp ceviche.
In addition, the beer selection is vast and there are premium spirits for signature cocktails and bar classics brought right to your seat during the movie.
Nitehawk Cinema surpasses the Hollywood blockbuster popcorn movie experience and elevates it to a sophisticated viewing experience like no other.
Why You Should Go
Everyone in Brooklyn knows that the best way to spend a morning or early afternoon is by making a pit stop at a cafe or coffee shop. While endless Dunkins and Starbucks line everywhere in New York, Williamsburg offers more depth to the experience with a wealth of excellent coffee shop options throughout the neighborhood.
Devocion is one of the best around, and they claim to offer the freshest and most flavorful cup of coffee you've had anywhere around. We love the coffee, but also are impressed by the architecture of the building and decor of the interior which dates back to when the area was a working waterfront district. 
Industrial flair pervades everything from exposed steel beams and classic Brooklyn bare bricks for a visual experience that sends you back in time while you enjoy an excellent cup of coffee. 
Although Devocion is an unassuming coffee shop where you can have a great cup, it's also a microcosm of Williamsburg. Everywhere you look and every place you visit is dripping with rich history and old construction that gives us a glimpse into an older world that's been all but forgotten in our modern day.
Through the art, music, and fashion renaissance happening in Williamsburg right now, we're seeing an honorable nod to the old ways and a blooming of the new.
There's a lot to love about Williamsburg, Brooklyn right now.
Map of Things to do in Williamsburg Brooklyn
Frequently Asked Questions about Things to Do in Williamsburg Brooklyn
What is Brooklyn known for?
Brooklyn is the home of attractions like Coney Island, the Brooklyn Bridge and Prospect Park, plus some of the best New York pizza. There are plenty of parks, hip shops and music and art venues to explore.
When is the best time to visit Brooklyn?
Any time of the year is great to visit, just be prepared for the cold in the winter months. Fall is a great time overall to visit.
What are foods to try in Brooklyn?
Hot Dog from Nathan's Famous in Coney Island
Bagel from Bagel Hole in Park Slope
Porter House from Peter Luger Steak House in Williamsburg
Fried Calamari at Randazzo's Clam Bar in Sheepshead Bay
Italian Biscotti from Court Pastry in Carroll Gardens
If you enjoyed our list of things to do in Williamsburg Brooklyn, you might also like:
15 INCREDIBLE THINGS TO DO IN NEW YORK WITH KIDS [+ WHERE TO EAT & STAY]
Pin for later