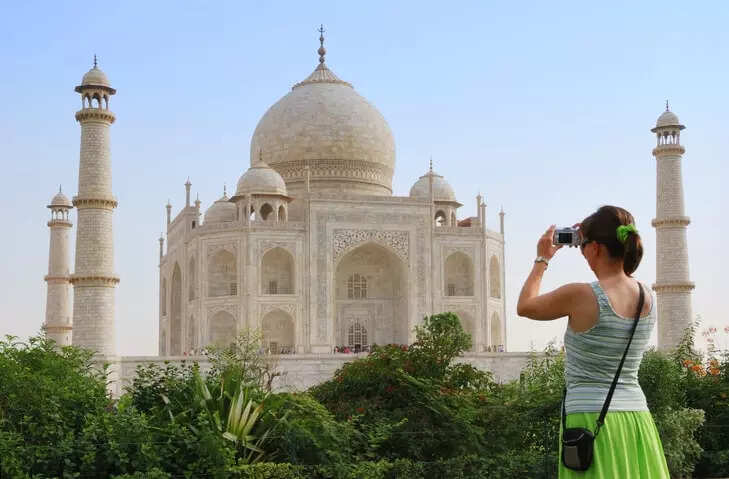 Global digital payments leader
Visa
joined hands with the Pacific Asia
Travel
Association (PATA) for the
Asia Pacific Destination Forecasts
2022-2024:
India
report and highlighted key travel trends, observations, and forecasts for the industry and country specifically. As per the findings of the report, Asia is projected to remain the dominant source region over the forecast period, while Europe and the Americas, the second and third major suppliers of visitor numbers into India, are projected to have visitor share contractions.
Looking at the Indian travel and tourism industry, the report predicted that India is expected to witness 13.34 million inbound visitors by 2024, which is around 22.1 higher than that of the pre-pandemic year 2019. That year, India received 10.93 million inbound tourists. Tourists travelling to India are forecasted to increase year-on-year between 2022 and 2024. To start with 4.1 million in 2022, which would double in 2023 to 8.5 million and 13.34 million in 2024.
Over the last two years, inbound tourism not just globally but in India as well suffered badly, and numbers came down drastically. Due to the impact of the Covid-19 pandemic, the number of international visitors to India reduced dramatically to 2.74 million in 2020, a 74.9 per cent drop in comparison to the previous year mainly due to stringent border control measures, lockdown, and other pandemic-related restrictions.
In absence of scheduled international commercial flights, the demand also dropped considerably and connectivity to India took a huge hit. The share of India in international tourist arrivals in 2020 was 1.57 per cent and the country accounted for 10.67 per cent of international tourist arrivals in the Asia Pacific region in 2020.
Trends and forecasts
As per PATA, the numbers of inbound visitors in 2021 have also gone down significantly to hit a new low with only 0.75 million international travellers coming into India. The Ministry of Tourism, Government of India, which keeps the record of India Tourism statistics and releases the number of tourist arrival in the country is yet to reveal the official figures with data for 2021.
Moreover, three scenarios were developed for this forecast period. Under the first scenario (mild), visitor numbers in 2024 are forecast to reach 13.34 million, 22 per cent higher than pre-pandemic (2019). Similar trends are predicted under the medium and severe scenarios but with lower recovery rates. (Check the graph below).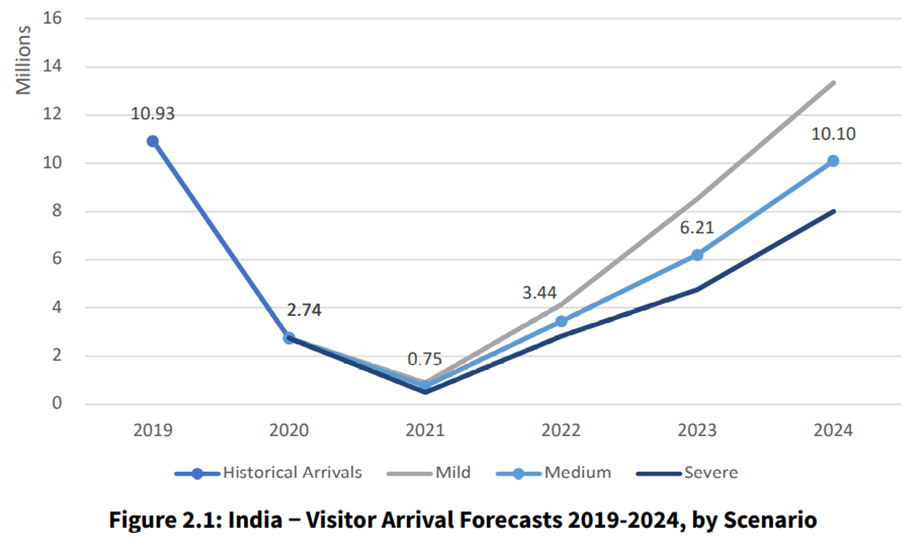 The PATA and Visa report also highlighted that if the prediction goes by historical arrival trends, the number of inbound tourist arrival is expected to reach 3.44 million by the end of 2022, 6.21 million by 2023, and 10.10 million by 2024.

Income and expenditure
As per the report, Consumer income in India is anticipated to be more than double by 2040, and purchasing power will be concentrated in the hands of the present-day Gen Z, the young affluent consumer base.
It also said that, over the 2020-2030 period, India is projected to increase by one position and rank 19th out of 84 countries in Euromonitor International's Wealth Index.
Sharing his thoughts on the forecast and the Visa – PATA report, Ramakrishnan Gopalan, Head – Products, India and South Asia, Visa, "The uptick in travel makes it important for a country to provide a superior travel experience to its visitors, and digital payments infrastructure should open these commerce and revenue opportunities for merchants everywhere. Small businesses and merchants across categories and geographies can then provide their customers the convenience of contactless payments and acceptance of cross-border transactions, in addition to seamless, secure, and speedy payments that international travelers are accustomed to."