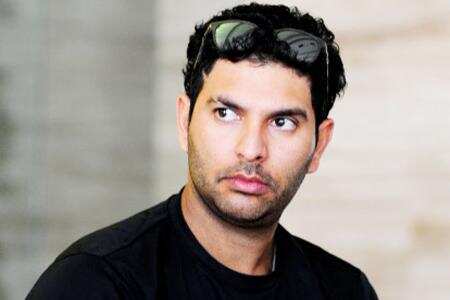 NEW DELHI: Yuvraj Singh seems as aggressive off the field as he is on a cricket pitch. The cricketer's fund YouWeCan Ventures has made its ninth startup investment in just about six months, picking up a minority stake in SportyBeans that runs multi-sports programmes for children.
Singh has picked up 10%-15% stake in SportyBeans, which caters to the physical fitness needs of 1.5-8 year olds through its 35 centres across 17 cities, for an undisclosed sum, a person directly aware of the developments said. Singh and SportyBeans director Karan Sareen confirmed the investment.
"This (SportyBeans) is a unique platform to identify and develop interest in sports at an early age and hopefully it will help in creating a transformational impact on building the next generation of sportspersons," Singh told ET.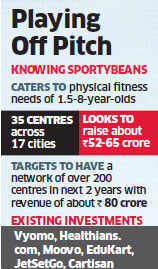 Since he floated the investment fund in April, Singh— known for his explosive batting — has invested in nine startups including mobilephone based beauty and wellness app Vyomo and online healthcare marketplace Healthians.com.
Sareen said Singh's association with SportyBeans would extend beyond being just an investor. "He is involved in co-designing the course curriculum," he said, adding that it's a researchbacked sports and fitness curriculum across popular sports including soccer, basketball, baseball, volleyball, hockey, tennis, cricket, rugby, and golf.
The company looks to raise $8-10 million, or about Rs 52-65 crore, to fund its immediate growth plans, Sareen said. It targets to have a network of over 200 centres in the next two years with revenues of about Rs 80 crore. It has signed an international franchise in Mauritius and another one would soon be launched in Malaysia, Sareen said. SportyBeans, which opened its first centre in 2010, today has a base of 15,000 children a year. It plans to leverage mobile technology to allow users to book online and for personal coaching and in-school sessions.
Franchising and licensing consultancy firm Franchise India promoted by entrepreneur Gaurav Marya has advised YouWeCan on the deal.
Singh, 34, started the venture fund in April this year with the objective of investing in startups across healthcare, sports, beauty and fashion, food and travel, among others. At the time of launch, Singh had told ET that the plans included investing about Rs 50 crore over a period of three-five years, adding that the fund would raise close to Rs 300 crore from other investors during this period.
Other investments of You-WeCan Ventures include cargo logistics startup Moovo; aggregator of diagnostic labs, sample collectors and doctors called Healthians; education marketplace Edu-Kart; online marketplace for private jet and helicopter charter flights JetSetGo; and automotive service marketplace Cartisan.